At
Den of Geek
:
(Please follow the link for the complete interviewl)
Morena Baccarin interview: V, Firefly, Serenity and Shakespeare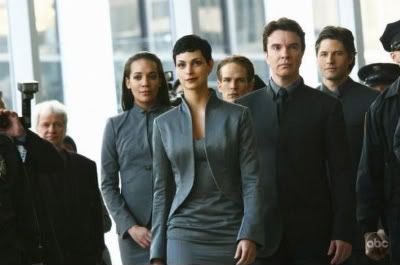 by
Simon Brew
Published on May 12, 2010
Morena Baccarin

chats to us about her starring role in

V

, as well as squeezing in time for a bit of

Firefly

,

Stargate

and

Shakespeare

...
Morena Baccarin
earned her geek stripes many years ago simply by jumping aboard the good ship
Firefly
. More recently though, she's been fronting up the new version of
V
as Anna, and it's her face that's been beaming down from the publicity posters. Here, she spared us some time to talk about the show, and what else she's up to...
A brief excerpt:
Can you tell us a little bit about what your reaction was to reading how they'd managed to update V when you took a look at the script?
First you feel that I hope it's going to be good. It's a remake of the show from the 80s that was very much about Nazi Germany, Nazi Youth programmes, the cold war stuff going on. When I read the script I thought I really hope they've updated it.

What they did is they contemporised the character so that Chad Decker, played by

Scott Wolf

, is an ambitious reporter, which is something we can all identify with.

There's multi-ethnic and cultural relationships in it, which is really great. And a priest, the idea of faith, and what we're playing with is wonderfully contemporised too.

And terrorism, which is something that we today are dealing with more than we were in the 80s.There's a really scary thing that you can't trust your neighbours and you don't really know who is with you and who is against you. I like that idea, that we are not safe in our own borders.