At
Give Me My Remote
:
(Please follow the link for the complete interview.)
HAVEN Star

Emily Rose

on

Stephen King

, Love Triangles and Kicking Butt
July 9, 2010 by
Marisa
Syfy debuts its newest series,
HAVEN
, tonight (July 9) and it's definitely worth checking out.
Emily Rose
plays Agent Audrey Parker, who is sent to Haven, Maine on a case where things aren't exactly as they seem– and that includes her own mysterious past.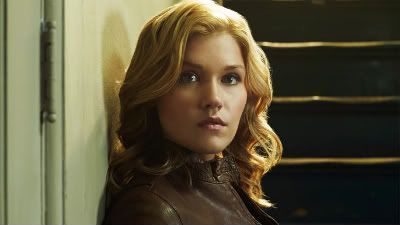 Emily Rose
A brief excerpt:
Audrey also gets kicked around a fair deal in the pilot. Will the supernatural elements of Haven continue to get the best of her?
Yeah, I think that's the great thing about the story is Audrey sort of finds herself getting batted around by these supernatural things that are happening in Haven. I can speak honestly here about the weather [you see on the show]– that's reality. I deal with that on a daily basis: wind and rain and freezing temperatures. It's always a challenge. They should have an acting school– a class– where they change the temperature in the room every five minutes because to do your scenes with all those changing elements…wind machines and leaves. And I had to do a scene in the pilot for the [big] storm and they were literally throwing clumps of dirt at my face. I was going, "I don't know how to do this!" But yeah, I think you will see Audrey grappling with the powers in Haven and we'll try and figure out what to do with them.