At
Pop Culture Zoo
:
(Please follow the link for the complete interview.)
Searching For Artifacts With Warehouse 13′s

Allison Scagliotti
By
Joseph Dilworth Jr.
Published July 3, 2010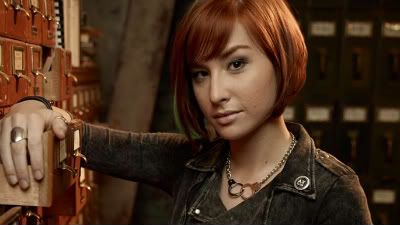 Allison Scagliott
i has been acting for nearly a decade now, appearing in high profile roles on series such as
ER
,
One Tree Hill
,
CSI
and
Smallville
. In 2009 she was cast in the recurring role of Claudia Donovan on the Syfy series
Warehouse 13
. The show quickly became Syfy's biggest hit series and Claudia became a hit with fans.
Warehouse 13
begins its second season on Tuesday, July 6th with Allison returning as a full-time cast member. Joe caught up with Allison recently to talk about how she got the role, shooting in Toronto and little bit of what's to come in season two.
A brief excerpt:
PCZ: Are you at all surprised at the fervor Warehouse 13 has garnered?
AS: Yeah, in the best possible way. From the beginning it took me by surprise, I had no idea what to expect. For one, I started acting professionally when I was eleven and the first three things I did were TV pilots that didn't get picked up, so I got used to working without anyone seeing it and so I could go to a mall and not have my shirt tugged on by a little kid. When I joined the cast of Warehouse it was sort of the same thing. I expected to go and work with amazing people and have a great time, but I had no idea what kind of fan universe explosion I was going to get into. It was really evident at Comic-Con last year! Fan fervor is nothing to shake a stick at and it warms the heart, really. Every time I go to a convention, and I haven't been to a lot of them, but the two that I've been to I love. I think that the whole fanboy culture, for all of the jokes one can make about it and it is screaming to be joked about, I think it is incredibly healthy. It warms my heart to see cosplay people running around because it's this group of people coming together to geek out over something they all really like, it's super positive and a great way for people to connect and meet new people who are into the same things and I like it a lot.

But in reference to the show, as actors we're really removed from the whole distribution machine. We shoot these episodes months before they air, then they go through the editing process and things are cut or reworked and improved with special effects and music and what comes out in the end is very far from where our heads were when we were making it. One can never tell what someone's response to it is going to be so it was such an incredible surprise to have the show embraced as much as it was last year and I hope we get the same response this year. I think we will. We seem to have hit our stride, I really, truly believe that. The writers have found the groove and have found out what works. We definitely have the average four million viewers to thank for our season two pick up and the massive product campaign that's going to be enacted this summer...