At
GateWorld
:
GateWorld Podcast: 2010: Then and Now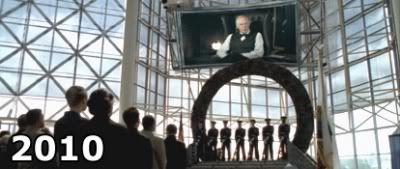 Visit the GateWorld
Podcast page
for more about the show!
The GateWorld Podcast goes back to the past in this week's show, taking a look at the
Stargate SG-1
Season Four episode
"2010″
and the way the first decade of the century had played out in that alternate timeline. But wait! Now it is 2010 … so how does the past decade really compare, within the Stargate universe?
We'll talk about the friends we lost, public knowledge of the Stargate, the stability and technology provided by the Aschen, President Kinsey, and more. And we'll ask listeners if you think we are better off now than we were before
SG-1
changed the timeline.

Stargate episode graphic courtesy of GateWorld.