From Joseph Mallozzi's blog update for April 25, 2008:
http://josephmallozzi.wordpress.com/2008/04/25/april-25-2008-whispers-day-3/
(Please follow the link for the complete blog update. And to view the photos in their full-size, higher-resolution format.)
April 25, 2008: Whispers Day 3
Dr. Carson Becket (Paul McGillion)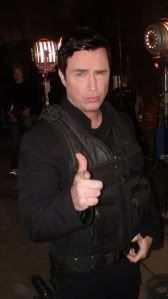 You know what would be awesome? Sleep. Unfortunately, my French bulldog Lulu sees to it that I'm awake by 6:30 a.m. every morning - barking, whining, chewing on my ear and, if I attempt to ignore her, grabbing a corner of my pillow and tugging it out from beneath my head if. So even though it's a late call, sleeping in is only a theoretical possibility for me.

Maj. Anne Teldy (Christina Cox) and Sgt. Dusty Mehra (Janina Gavankar)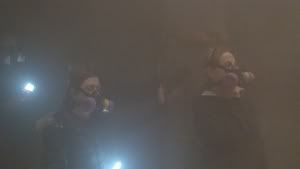 But I'm not complaining. It only sounds like I'm complaining. In reality, I'm having a terrific (dare I say corking) time on set. Will [Waring - the director] is an affable host who, between fielding my last minute dialogue adjustments and assisting me in locating my oft-misplaced chair, has also found time to direct the episode. It's all coming along very nicely (and spookily) and I'm sure fans will be both
delighted with and terrified by the final product.
Sgt. Dusty Mehra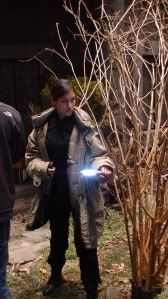 I'm able to get this entry in early today thanks to a late start which has us breaking for lunch at 4:30 p.m. today. For our 8:30 p.m. dinner tonight, I've ordered pizza and wings for the cast and crew as a thank you for all of their hard work (shooting Whispers hasn't been easy and they`ve been doing an incredible job). All-dressed, spicy chicken, pepperoni and cheese, veggie, and even a couple of ham and pineapples for the fringe crowd.
Paul McGillion, Director Will Waring and Janina Gavankar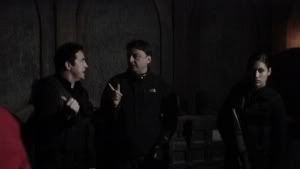 The gang over at SF Signal were kind enough to ask me to participate in their recent Mind Meld feature, an ongoing interview/feature in which a bunch of people are asked to a respond to a single question.
They asked:
Q: Which author, living or otherwise, do you believe deserves more recognition than they currently receive and why?
http://www.sfsignal.com/archives/006576.html
**snippage**