From The Academy of Science Fiction Fantasy & Horror Films site:
http://www.saturnawards.org/nominations.html
(Please follow the link for the complete list of nominations.)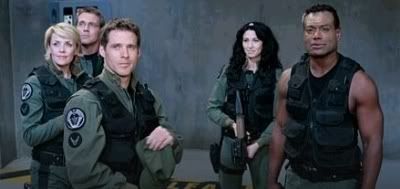 The Academy of Science Fiction, Fantasy and Horror Films is a non-profit organization devoted to honoring, recognizing and promoting genre entertainment. The organization was founded in 1972 by film historian Dr. Donald A. Reed. It is currently headed by film enthusiast Robert Holguin. This year's show will take place on Tuesday, June 24, in Universal City, California.
BEST SYNDICATED/CABLE TELEVISION SERIES
DEXTER (Showtime)
BATTLESTAR GALACTICA (Sci Fi Channel)
STARGATE SG-1(Sci Fi Channel / MGM)
THE CLOSER (TNT)
KYLE XY (ABC Family)
SAVING GRACE (TNT)