At
TVaholic
:
(Please follow the link for the complete interview.)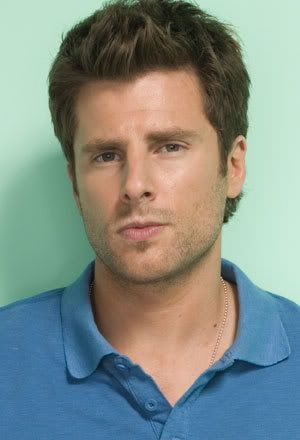 June 30, 2008
Interview With James Roday of Psych on USA Network
by Jason the TVaholic
Last week I got a chance to visit the set of USA's
Psych
. While there we got to interview the entire cast. There were six of us on the panel of questioners and we just threw out questions and he answered them until our time was up and he had to go back to work. They were on the fifth day of shooting of episode six, "Talk Derby to Me."
First up was the fake psychic detective himself, James Roday. In person, or it could have been because it was so early, he comes of as much more quiet and reserved than his character of Shawn Spencer, yet still very funny.
We were all sitting around in a small room with a couple of couches and office chairs and as recorders were being put out on the coffee table to capture his answers to our brilliant questions, James started things off.
**snippage**
Question: Is it a fine line to walk between getting too comfortable with a character after two seasons?
Roday: It's always a fine line, with this character especially. I think the longer that we go, the line will get even finer because like the older that I get the tougher it gets to [solve] this sort of puckish guy who doesn't want to grow up. There comes a certain point, I think, where it's just sort of sad. [laughter] So, yeah, it's always sort of walking that line and, you know, making this guy likeable and slappable at the same time.