At
SFX Magazine
:
(Please follow the link for the complete SFX Magazine interview excerpt.)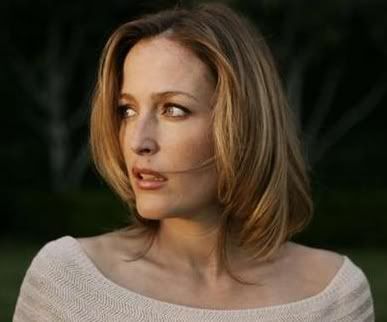 Monday June 30, 2008
Gillian Anderson interview
Earlier this year we were able to go on set for the filming of the new X-Files sequel in Vancouver. Some of the interview material is available to read in the latest edition of SFX magazine (SFX 171 featured quotes from Frank Spotnitz and Chris Carter; SFX 172 is on sale from Wednesday 2 July 2008 with profiles of David Duchovny and Gillian Anderson) but we thought you might like to read bonus answers from Gillian "Scully" Anderson here on the SFX website...
**snippage**
A brief excerpt:
How did you feel about presenting Masterpiece Theater?
Gillian Anderson: "Working and living in Britain - there's such a vast access to quality, and to the classics, and to a genre and intensity of film-making for television. With people like Judy Dench - it's just so part of their world. Actors in England go from theatre to television to movies seamlessly. They go back and forth - you see Charles Dance and Helen Mirren, and they're in your living room on TV, then they're on the stage: that's just part of life. And to help in some small way to bring that world to the American public, and try and make it more a part of their daily lives, felt like a good thing to do."