Armageddon Pulp Expo
is reporting that Don S. Davis passed away yesterday: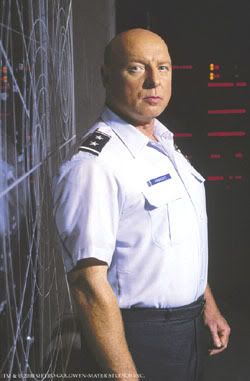 New Zealand event update
WEB SITE UPDATE 1st July 2008 – the passing of two greats
It is with much regret that i post the news of the passing of two previous guests that have attended the event.
Comic great Michael Turner lost his battle with cancer over the weekend and we have just been advised that Stargate actor Don S Davis has also passed.
Below is a message from his family
Dear Fans and Friends of Don S. Davis,
So many of you have been touched by not only the work and art of Don S. Davis, but by the man himself, who always took the time to be with you at the appearances he loved, that it is with a tremendous sense of loss I must share with you that Don passed away from a massive heart attack on Sunday morning, June 29th. On behalf of his family and
wife, Ruby, we thank you for your prayers and condolences. A family memorial where Don's ashes will be scattered in the ocean will take place in a few weeks, and should you wish to, please make a donation to the
American Heart Association
in Don's memory.
Also, on a fan's live journal:

http://vickyocean.livejournal.com/51501.html
The fan is advising she received a message from Dragon*Con Stargate Track with the same information.
<><><><>
My condolences to everyone -- Don's family, friends, co-workers, and all the fans who loved him for his humor, warmth, talent and generosity of spirit.
Morjana