From Hollywood Exclusive by Marilyn Beck & Stacy Jenel Smith:
http://www.creators.com/lifestylefeatures/hollywood-exclusive/-friends-feature-reports-news-to-lisa-kudrow-starring-in-kabluey-flanigan-hopes-for-more-character-d.html
(Please follow the link for the complete column.)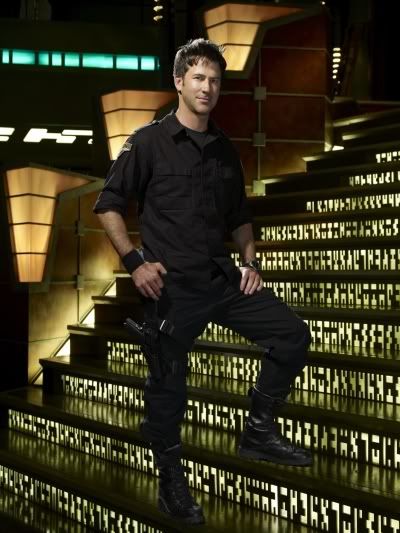 Flanigan Hopes For More Character Development On 'Stargate Atlantis'
THE VIDEOLAND VIEW: The fifth season of "
Stargate Atlantis
" launches
July 11
— with several cast changes, including a shift from starring to recurring status for Amanda Tapping, and Robert Picardo essentially taking her place as the mission leader on the Sci-Fi series. This "could be" a transitional year, agrees the show's wryly witty star, Joe Flanigan.
"I've been tempered by my experience not to make any bold statements. It's definitely been a different experience for us with the changes. The storylines seem to be a little more sophisticated." But he can't talk about them. Offers Flainigan, "I'll give you one secret: I don't die."

Flanigan does say, "I'd like to see a little more exploration of my character. They're kind of working on a couple of ideas we could possibly do. I certainly don't feel the well is dry in terms of continuing to make these characters interesting. Still, there's no doubt about it — the challenge of keeping a character dynamic through a number of seasons is a real one. In the genre of science fiction maybe less so, because you're dealing with big external threats and bizarre situations," he says.

"Luckily, we all like each other and keep each other sane, which is a major plus," he adds. "If you're going to spend this much time on a project, you'd better enjoy the people you're working with."
**snippage**