S.A.R.A.H. has her own
Twitter
site now: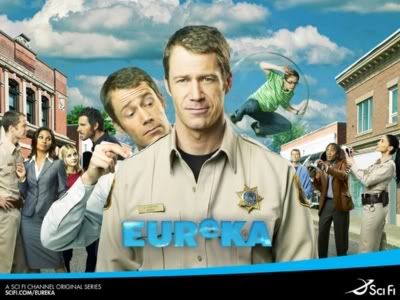 And just posted something mysterious:
Security sensors have detected an alert concerning a Mary Perkins. If you have information regarding her whereabouts, call 202-640-3864
And at the
Eureka Unscripted
site:
Their Aug. 15 update includes:
Oh. And if anyone has information on Mary Perkins, please call the number on the right. The Department of Defense has identified her as a "person of interest" and wants any traces of her whereabouts reported immediately.
WANTED BY THE D.O.D: MARY PERKINS
Have information on her whereabouts? Call us at: (202) 640-3864
AND...
What we CAN tell you about the back thirteen is…
Look for Colin Ferguson (Sheriff Jack Carter) and Joe Morton (Henry Deacon) to DIRECT episodes. (Colin is already up for Episode 310 which he'll be shooting in September.) Also, look for a special episode in which Deputy Jo Lupo gets to be "Sheriff for a Day." Too bad she picked the wrong day… And how about Eureka in the Old West? Heh. Well after exploding dogs, we have to up the ante somehow!
****
The phone number is a disconnected number in Washington, D.C.
*******
Also, according to IMDB, in the following episodes, some former SG1/SGA guest stars will be appearing:
Show Me the Mummy
(airs Sept. 2)
Niall Matter (SGA's Lt. Kemp) and Zak Santiago (SG1's Evolution Parts 1 & 2)
Phased and Confused
(airs Sept. 9)
Niall Matter
Here Come the Suns (airs Sept. 16)
Niall Matter, Dean Marshall (SGA's Sgt./Agt. Bates)
From Fear to Eternity
(airs Sept. 23)
David Richmond-Peck (SG1's Orpheus and SGA's Harmony)