From
Pop Culture Zoo
:
(Please follow the link for the complete article. Photos at the link.)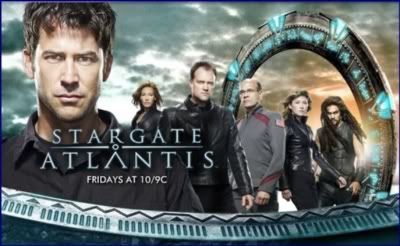 SDCC 08: 'Stargate Atlantis' Conversations
By Joseph Dilworth Jr. ⋅ August 15, 2008
At this year's San Diego Comic Con we caught up with
Stargate Atlantis
cast members
Joe Flanigan
,
Robert Picardo
and
Jewel Staite
in the press room for a brief chat.
We first spoke with
Joe Flanigan
(Lt. Colonel John Sheppard) who started things off by asking about the device I was recording with, my Creative Zen (look for my review of the Zen soon). He's into gadgets and thought it was pretty cool. I asked him what he thought of the con, but he said that he just got there and was told he wasn't allowed to go to the floor, but if he did he would buy out his own action figures. He recently received two boxes of his own action figure and one of the most satisfying things in his career so far has been to send his action figure to his friends and god-daughters. He joked that is what everyone gets from him for Christmas. "I can't think of a more beautifully self-involved gift then to send someone your own action figure."
I asked him if he had any idea what he was getting into when he signed up for Atlantis a few years ago. He answered, "Vaguely, not really…no. I didn't expect it to run as long and as strong, having done a lot of TV and seeing the nature of the television industry. It's rare when an audience comes out with so much passion. It's doesn't seem to happen in the television business all that often. It's been a really nice surprise..."