From
The Sun
(UK):
(Video interview with David Hewlett embedded at the site, discussing filming of Stargate Atlantis' season four episodes "The Last Man,' and 'Trio.' Runs 1 min 50 seconds. Please follow the link for the complete text interview.)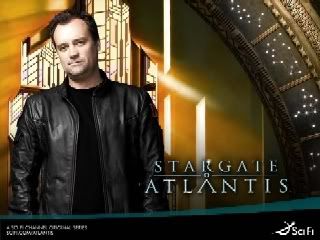 Actor's sci-fi birth worries
By CARA LEE
Published: Today
STARGATE actor David Hewlett told The Sun he nearly ended up at his baby's birth in the scary costume he was wearing for the sci-fi show.
The star, who plays Dr Rodney McKay in the Stargate: Atlantis series, said he was waiting for his son to be born during the filming of the fourth season.
David said: "There was great stress I should have to hop in the car and drive across two borders with 1,000-year-old make-up on, dressed as an alien."
**snippage**