At
Media Blvd. Magazine
:
(Please follow the link for the complete interview.)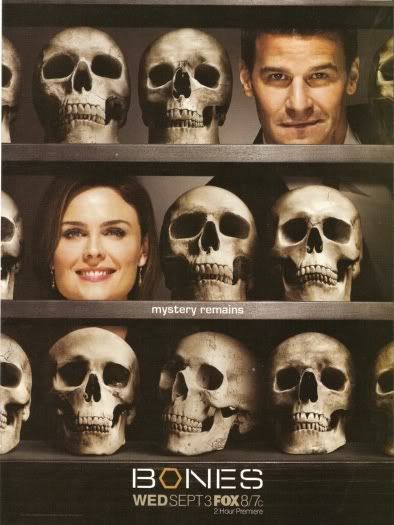 David Boreanaz On The 4th Season of Bones
Thursday, 11 September 2008
By Christina Radish
The Fox television series Bones, currently in its fourth season, is a darkly amusing procedural with humor, heart and character, inspired by real-life forensic anthropologist and novelist Kathy Reichs. Dr. Temperance "Bones" Brennan (Emily Deschanel) is a highly skilled forensic anthropologist who works at the Jeffersonian Institute in Washington, DC, and writes novels as a sideline. When the standard methods of identifying a body are useless, usually meaning that the remains are so badly decomposed, burned or destroyed that CSI gives up, law enforcement calls in Bones for her uncanny ability to read clues left behind in the victim's bones. Bones works directly with Special Agent Seeley Booth (David Boreanaz) of the FBI's Homicide Investigations Unit, and together they pore over the physical evidence of the crimes they investigate.
Series star David Boreanaz spoke with MediaBlvd Magazine about what viewers can expect from Agent Booth in Season 4 of the hit series.
A brief excerpt:
MediaBlvd Magazine> How will Booth evolve as a character this season?
David Boreanaz> We really get back into Booth's past. We'll see his apartment. We'll see where he's living this year, and how he lives. One specific idea that I have, in general, that I really want to exploit is how Booth is, on the outside, very charming. He has all of his shields up. But, here is a guy who was an Army ranger. He was a sniper, and we touched on that in the first episode. He was tortured and he got hit in the shins. It would be nice to see how Booth gets ready in the morning, and to see him start the day because, when you do see him, he's always on the move. He always has all of this stuff that protects him, but what really lies underneath all that is good stuff. I think we'll exploit that this year.