At
Stargate Planet
:
GERMAN
ENGLISH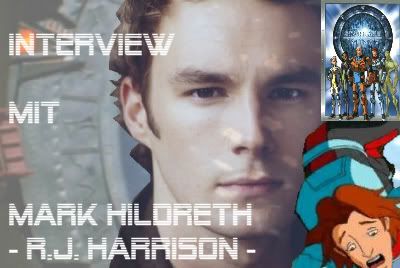 Interview with Mark Hildreth
Stargate-Planet, September 2008
Mark Hildreth was born on January 24th, 1978 in Vancouver, BC, Canada. On
Stargate:Infinity
he is the voice of "R. J. Harrison" and we're grateful that he agreed to take some time off his busy schedule to answer a few career related questions for our German website visitors.
A brief excerpt:
S-P.de: On "
Stargate:Infinity
", you were the voice of the character "R.J. Harrison". Did you have to audition? How did you prepare?
MH: I think I did audition for this one, and had a great time every day working with the awesome actors on the series.
S-P.de: Anything you remember from working on
Stargate:Infinity
? Was it taped in Vancouver? How long did it take to take one episode?
MH: We would usually record one episode in about 4 hours, we recorded at Koko Studios in Vancouver Canada. I remember

Dale Wilson

, who is a very good voice-over actor whom I've known and worked with for many years, taking charge and leading a great cast.
S-P.de: How was working together with
James Byrnes
on
Stargate:Infinity
? Which character did he voice-over?
MH: Jim is an old friend, and he recently sang with me on my new album entitled Complex State Of Attachment. I am a pop/R&B singer/songwriter, and I had the great honor of working with Jim on my album - you can hear it at http://www.mark-hildreth.com. Jim is a great guy, and was, as always, a real pro when we worked together on Stargate Infinity.