At
Pop Culture Zoo
:
(Please follow the link for the complete interview.)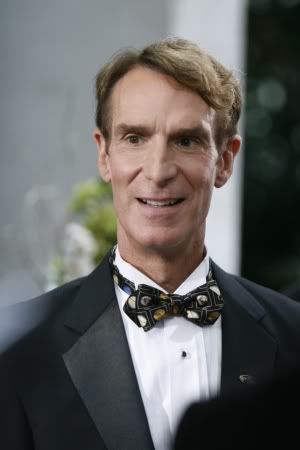 Bill Nye
Talking Physics, Astronomy And 'Stargate Atlantis' With Bill Nye
By Joseph Dilworth Jr.
November 21, 2008
"
Brain Storm
", the latest episode of
Stargate Atlantis
, guest-stars
Dave Foley
,
Neil deGrasse Tyson
and
Bill Nye
. Also known as the "Science Guy", Nye has shown many people the fun and entertaining side to science. His show,
Bill Nye the Science Guy
ran for four years on PBS and majorly influenced me in an interest in physics and astronomy. Thanks to SCI FI, I recently had a chance to speak with him about his appearance on
Stargate
and a whole range of other topics. While this may not read as funny, trust me when I say he had me laughing the entire conversation. Note: there are some mild spoilers below so you may want to read this after you watch the episode.
PCZ: How did you get involved with doing an episode of Stargate Atlantis?
BN: Robert Picardo is on the advisory board of The Planetary Society. I have been a member of The Planetary Society since 1980. Now I'm the vice president and he and I have become really good friends. So he asked me if I'd be interested and he asked them [the producers] if they'd be interested and we converged. It turns out that Stargate-ians are all big Bill Nye fans. It's cool.
PCZ: Most of the time on a show like Stargate, a fictional show, it's usually…
BN: Fictional, what?!? Are you kidding? That's not real?
PCZ: You tell me, how real is it?
BN: I'll just tell you, [on the episode I'm in] the world almost ends, man. It takes us like fifty-four minutes to keep the world from ending. We really had to focus.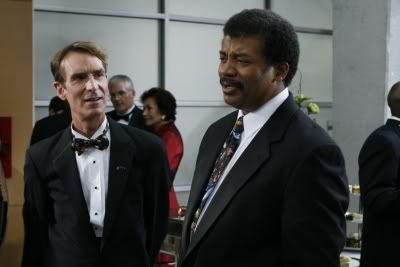 Bill Nye and Neil deGrasse Tyson