At the Diamond Select Toys
blog update
at Art Asylum for November 21, 2008:
(Please follow the link for the complete blog update.)
Questions and Answers # 15
DST Chuck tackles your questions about
Battlestar Galactica
and
Stargate
in this latest installment of Ask DST! Check out the full Q&A and find out the status of
Stargate SG-1 Series 5
, additional outfits for the 12" Stargate figures and much, much more!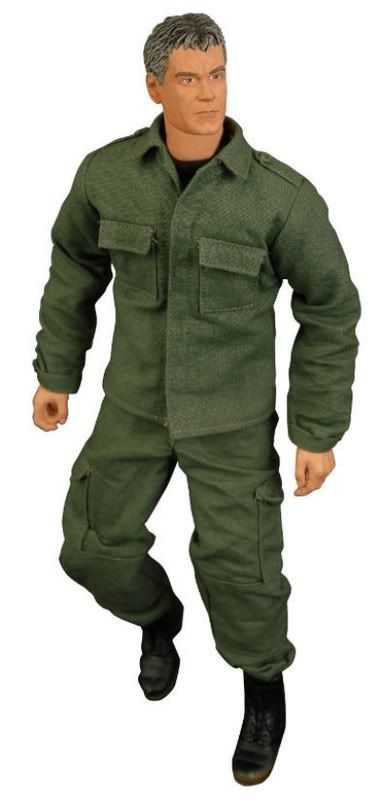 Jack O'Neill 12" figure
Brian Petersen:
Will any alternate outfits be sold for the 12' Stargate figures?
DSTChuck: We do not have any plans to sell the outfits individually, but if the response is solid we'd love to make more 12" figures.
Callum Templeton:
Any Chance of the aliens from First Contact? And could you tell us what accessories Ronon comes with? Thanks.
DSTChuck: Not sure yet on aliens but I don't think so. Ronan comes with his blaster, GDO, P90, knife and sparring sticks.
James White:
Thanks again for taking time for these questions. I have a question this time about the 12" Stargate figures. Do you plan to release any accessory packs or different uniforms for these figures? It would be nice to have some offworld gear for them.
DSTChuck: NO problem, thanks for taking the time to write in. Right now, we don't think the line has enough depth to produce something like that, but yes - if the first three figures do we'll we'll add more to the line and mix in new accessories as well...
Cameron Mitchell 12" figure
Diamond Select Toys