At RedEye Chicago's tv blog,
Show Patrol
(Chicago, IL):
(Photos and the SciFi Channel 'Brain Storm' episode trailer at the site. Please follow the link for the complete interview.)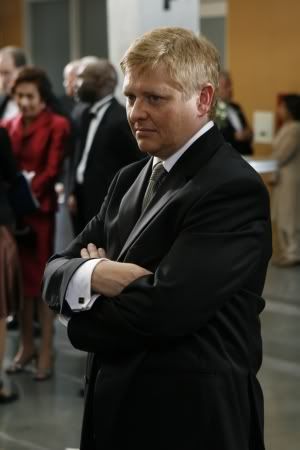 Malcolm Tunney (Dave Foley)

Dave Foley gets geeky on 'Stargate Atlantis'
November 21, 2008
by Curt Wagner
Dave Foley gets around.
The comic and actor, who was a member of the famous comedy troupe Kids in the Hall and starred in the sitcom "
NewsRadio
," has been making the rounds as a TV guest star.
He's done memorable turns on "
In Plain Sight
," "
Lovespring International
," "
Scrubs
" and
"Will & Grace
." In last Sunday's episode of "
Brothers & Sisters
" he appeared as Ron Rifkin's "disappointing and annoying blind date."
At 8 p.m. Friday he plays another grating but comical character on Sci Fi Channel's "
Stargate Atlantis
."
"A brilliant asshole—I guess is what my character is," he told me recently. "It's fun to play."
Foley stars as Malcolm Tunney, an old schoolmate and rival of
David Hewlett's
Dr. Rodney McKay. Tunney has invented (actually stolen from McKay) a device that is supposed to stop global warming, but once he turns it on it almost kills everybody at a big geek convention, including
Bill Nye
the Science Guy and astrophysicist
Neil deGrasse Tyson
— who play themselves...