From the QMx Insider e-mail newsletter:
The much-anticipated
Serenity/Stargate
con in Burbank this weekend is a major milestone for us, featuring the largest number of new products we've ever introduced on a single day, plus our biggest product launch ever: We're talking 25 x 38 inches here!
But it just doesn't seem right to leave all the loyal Insiders who couldn't be in LA completely out of the festivities. So, while nothing can beat the pure joy of spending two days surrounded by like-minded individuals on a quest to have as much fun as possible, perhaps this will soothe the sting a bit.
During the run of the November 21-23, 2008 convention, all QMx
Serenity
,
Stargate
and
Black Market Beagle
products will be 10 percent off when you enter this code into the coupon field on our
online store
: CREATION. And ordering for a few of our hottest new products will open a couple days early - just so you can get the discount on them, too.
We're extending the same discount to folks who make it to the show as well. Just tell the QMx person at the booth "I'm an Insider," and they'll take 10 percent off your total purchase price.
If you can, be sure to drop by the show and say "hi." Nothing makes us happier than meeting our customers. And you never know. We might just have a surprise or two "flying" through the booth.
F-302 Technical Specifications Poster
This high-resolution rendering, taken directly from the CG files used to produce the visual effects on
Stargate SG-1
and
Stargate Atlantis
, marks the first time such detailed images of the F-302 have been published. View this beautiful ship from the top, bottom, side and front. Pore over callouts showing all the major systems and weapons.
The
F-302 Technical Specifications Poster
measures 17 x 22 inches and is printed on 100-lb. satin-finish paper. It retails for the low price of just $14.95.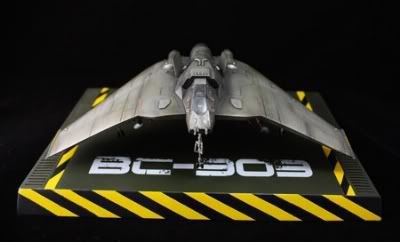 F-302 Strategic Fighter Replica
The F-302 is the culmination of Stargate Command's effort to develop a strategic fighter/interceptor to challenge Goa'uld dominance of the air. Based on the successful X-302 prototype, which was reverse-engineered from the Goa'uld Death Glider, the F-302 is Earth's first true production starfighter and is our first line of defense against extraterrestrial threats.
Now you can own your own
F-302
screen-accurate replica, taken directly from the
Stargate SG-1
CGI files.