From a Creation Entertainment e-mail announcement: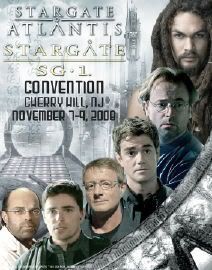 STARGATE CONVENTION THIS WEEKEND IN NEW JERSEY!
It should be a fantastic weekend celebration for
Stargate SG-1
and
Stargate Atlantis
fans as The Official STARGATE Convention comes to the Clarion Hotel Cherry Hill on November 7-9, 2008.
All six of our guests have proven to be exceptional on stage and very fan friendly. Our complete schedule of events is below and today we just added the screening of Friday night's new ATLANTIS episode which we will be showing at the convention on Friday after autographing!
We're particularly looking forward to the Celebrity Cabaret on Friday Night because it features three of the most hilarious guests any convention could ever have. Stargate fans are going to LOVE it!
Join the fun: full details and ticket info are available at our
site
.
Guests include:
Jason Momoa, David Nykl, Gary Jones, Chuck Campbell, Kavan Smith and Dan Shea
THE OFFICIAL STARGATE SG-1 / ATLANTIS CONVENTION
CHERRY HILL, NEW JERSEY
(Philadelphia Area)
Fri., Sat. & Sun. November 7-9, 2008
Clarion Hotel Cherry Hill
1450 Marlton Pike E.
Cherry Hill, NJ