At
TV Guide Online
:
(Please follow the link for the complete interview.)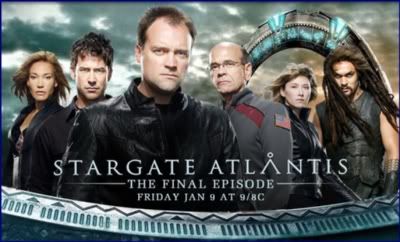 David Hewlett Says Goodbye to Stargate: Atlantis
Jan 7, 2009 - by Erin Fox
David Hewlett
has played the arrogant and often irritating Rodney McKay on
Stargate SG-1
and
Stargate Atlantis
since 2002. As the series comes to an end Friday (9 pm/ET, Sci Fi), David reminisced with TVGuide.com about his adventures playing the obnoxious McKay, what is was like smooching pal and cast mate
Jewel Staite
(Dr. Jennifer Keller) and the possibility of appearing in the upcoming Stargate movie.
... TVGuide.com: What was it like filming the finale? Was it super-emotional for all of you?
Hewlett: It's such a blur, the final episode. The reality is just miserable! I really love playing McKay. It's one of those roles where every day something is different. I don't think you can finish the last episode of a five-year show that's been this much fun to do, and sum it up the way that you have to. So I couldn't help feeling, "We need more time for this!"
... TVGuide.com: You don't know if you're in the movie yet, but if you could be, what would you like to see happen?
Hewlett: Maybe some God-like powers... . Maybe a planet of just women. Now I'm going back to the old Star Trek episodes! (Laughs). I don't want to know what happens because I enjoy picking up a script and going, "I do what?!" The hope is that they'll do an Atlantis movie and, hopefully, they'll bring McKay back for that.