At
SciFi and TV Talk Talk's Blog
:
(Please follow the link for the complete interview.)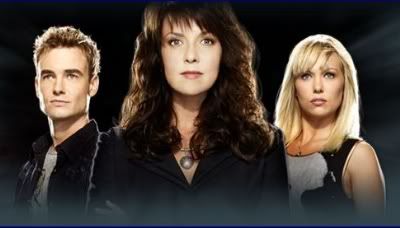 Robin Dunne - Where There's A Will…
by Steve Eramo
Words cannot quite describe the look on forensic psychiatrist Dr. Will Zimmerman's face as he follows Dr. Helen Magnus out of a dark passage and into the central hub of a place called the Sanctuary. The circular room extends hundreds of feet into the air and has multiple levels with numerous cubicles, each of which is home to a very special occupant. With a feeling of trepidation as well as curiosity, Will follows Magnus as she gives him a closer look at her guests. Could his mind be playing tricks on him? From a beautiful mermaid to a reptilian creature and even a man with two faces, Will is understandably overwhelmed by what he is seeing.
"How many…more are there?" he asks Magnus.
"Many," she says, smiling, and leads Will away to continue his tour.
"Cut! That's great," enthuses director

Martin Wood

. "Let's do it one more time, only from a different angle."
Those who saw the Internet Sci-Fi series
Sanctuary
will remember the above exchange from the show's two-hour web pilot. In May 2008, this sequence was among those that were re-shot for the TV version of the show, which completed airing its 13-episode first season back in January on the Sci Fi Channel. In it, actor
Robin Dunne
plays Dr. Will Zimmerman, who is chosen by the brilliant and beautiful Dr. Helen Magnus (
Amanda Tapping
) as her new protege. Together with Helen's daughter Ashley (
Emilie Ullerup
), they find, protect and offer refuge to the many strange, and sometimes dangerous, creatures walking this planet. As with the Internet version, the TV adaptation requires its cast to act against mostly virtual or "green screen" sets, which has taken some getting used to for
Dunne
.
"It's great to work on green screen because the possibilities are endless," says Dunne, taking a breather while the cameras are being repositioned for a new shot. "You can do anything, you can create any type of creature or setting, so it's amazing. It's also not difficult to act in this sort of environment because I have the privilege of working with such a talented company of actors. The thing that I did have to get the hang of was the dimensions of space. We do a lot of stuff where we're running through the Sanctuary and turning corners, and every now and then while filming the Internet pilot,

Martin [Wood]

would call, 'Cut,' and then say, 'Hey, Robin that was terrific, but you just ran through a wall.' And I'd be like, 'OK, what are the dimensions here?' and they'd put green tape down on top of the green floor to mark off the boundaries. So there were things like that to get used to, but once I did, it was really exciting because with every new script that came out, you never knew where your character was going to end up and what we were going to do."
NOTE: Sanctuary season two premieres on SciFi Channel (or Syfy) Fall of '09.