At
SciFi Wire
:
(Please follow the link for the complete SciFi Wire article.)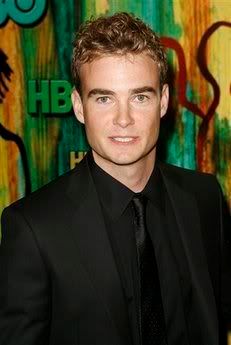 Robin Dunne says Sherwood Forest has monsters but no tights
By Bryan Cairns
05/11/09
Robin Dunne
, who will star as the title character in SCI FI Channel's upcoming original movie
Robin Hood: Beyond Sherwood
, told SCI FI Wire that the film adds a supernatural element to the venerable legend. (Possible spoilers ahead!)
"There's a monster that is being used as a weapon by the sheriff in order to control things," Dunne said in an exclusive interview last week. "Robin is left to try and stop this monster. It's not a classic creature in the sense it's pure
evil; it's actually a girl that has been transformed, so Robin has to preserve this life that has been morphed. It was an interesting film to do. Robin Hood is a character I've always wanted to play, and such an iconic archetype."
Robin Hood: Beyond Sherwood
isn't on SCI FI's schedule yet...
~~**~~**
The movie stars
Sanctuary's
Robin Dunne, Erica Durance, Julian Sands, David Palffy, Cainan Wiebe, David Richmond-Peck, Richard de Klerk and Anna Louise Sargeant. Written by Chase Parker and directed by
Stargate's
Peter DeLuise.
Robin Hood: Beyond Sherwood
at
Front Street Pictures
.