From the
2009 Leo Awards
site: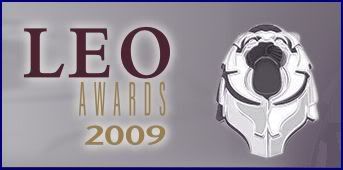 LEO AWARDS FEATURED ON SHAW TV's THE EXPRESS: TONIGHT!
VANCOUVER, BC – May 12, 2009: Tonight — Tuesday, May 12th – 6pm, 8pm, and 10pm,
The Express
on Shaw TV will be airing its on-location special of the LEO Awards Official Red Carpet and Gala Awards Ceremony. The show will also air the following day and at various times throughout the year.
Featured on the episode is LEO Award winners
Amanda Tapping
and
Ryan Robbins
of
Sanctuary
,
Tyler Labine
of
Reaper
, and
Babz Chula
of
Mothers&Daughters
, among the many others captured on the Red Carpet. Outstanding Achievement Award winners,
Brad Wright
and
Robert Cooper
of the
Stargate
franchise, are also featured on the episode. Learn how Brad and Robert's childhood science fiction obsession led to the highly successful series.
'We are so excited to have Johanna Ward and Shaw TV on board once again this year to produce this exclusive TV special on the LEO Awards,' says Sonny Wong, LEO AWARDS Producer. 'As in past years, we're sure that a few LEO Awards dinner parties will be taking place as the community comes together to celebrate this special broadcast.'
Tune in to learn more about BC's exciting film and television talent on Shaw's The Express May 12th and for exciting live coverage from the Red Carpet and Gala Awards Ceremony of the LEO AWARDS 2009!