At
SciFi Pulse
:
(Please follow the link for the complete interview.)
Agam Darshi

Chats About Her First Year On 'Sanctuary'
Written by
Ian Cullen
on June 9, 2010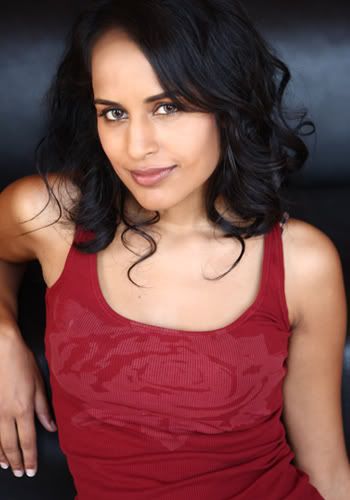 I recently got the chance to speak with
Agam Darshi
, who is best known to fans of
Sanctuary
as newcomer Kate Freelander.
The full version of this interview will be featured on this weekend's
SciFiPulse Radio
program, but to whet your appetites. below is a preview of some of the things you can expect to hear from Agam about her part in the show as well as other projects that she has worked on.
A brief excerpt:
SciFiPulse: I heard from Ryan Robins that Robin Dunne is the practical joker on the set. Has he managed to get you yet, and if so what did he do? Can we help you in plotting your revenge?
Agam Darshi: [Laughs] He hasn't got me yet! I have been an innocent bystander for the most part. I've just been innocently standing around and have seen Robin in action pulling practical jokes on other people. So, fortunately he hasn't really gotten me too bad … except one thing that they were doing last year was they were changing everyone's names on their cast chairs. So Robin's name turned into something else. They just moved around the letters! And it became very funny as the day went on. They did do that to me.

Also, every so often I'll see Robin's bum appear out of no where. Fortunately, I've not actually been a target, but if I am I'll definitely let you guys know, and you can help plot my revenge.