At
GateWorld
:
Mister Kino
David Blue

Audio Interview
by
Chad Colvin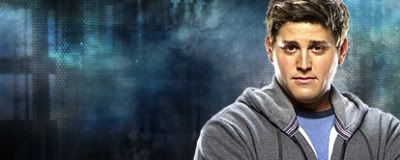 With the first season of
Stargate Universe
drawing to a close, who better to tell us everything is going to be alright (Season Two is just around the corner!) than
David Blue
? The actor plays Eli Wallace on the series, and has quickly become a fan favorite both on screen and behind the scenes.
GateWorld sat down with David at Creation Entertainment's official Stargate convention in Vancouver. We covered everything from his relationships with other cast members, to Eli's character development so far (and still to come), to the fan reception of the show.
GateWorld's interview with David Blue runs 15 minutes, and is available in audio. It's also transcribed [at the link above]!
A brief excerpt:
GateWorld: What aspects of Eli's life and personality would you like to see explored?
David Blue: We're on a good way to doing all that. I don't want it to happen too fast, because I agree with Brad [Wright] and Rob [Cooper] that he shouldn't grow into things too quickly. I'd love to see him find a way to contribute more, not just be the documentarian. Not just be the guy who's like, "Ooh, it's a Stargate!" and start contributing what he knows. Because he is very good at math, he has had training in astrophysics and physics and all these other things. So I'd love to see him start putting it to use.

But the truth is that I know it's coming down the line. I've seen all of the relationships that I've been curious about [developing]. All the stuff about his past, when they can they touch on it. It's the long haul for a character like this. You kind of have to be patient.