From Den of Geek:
http://www.denofgeek.com/television/20393/battlestar_galactica_katee_sackhoff_conference_interview.html
(Please follow the link for the complete interview.)
Battlestar Galactica: Katee Sackhoff conference interview
With the fourth and final season of Galactica airing in the US next Friday, Starbuck actor Katee Sackhoff engages a gaggle of journalists for a long chat...
by Martin Anderson

"We've been told who the final Cylon is, and I personally don't believe it. I think that's something that's going to be kept to the very end."
At 1pm EST, Battlestar Galactica's Starbuck, actor Katee Sackhoff, gave a long interview to a host of journalists from print and web publications that included the New York Times, Redeye, Cablefax, Niagara Frontier Publications, Soap Opera Weekly, e-online and many more.
Geek was there, and even if a gremlin meant we didn't get to ask our late question (one per publication was allowed), Katee held forth on many topics...
**snippage**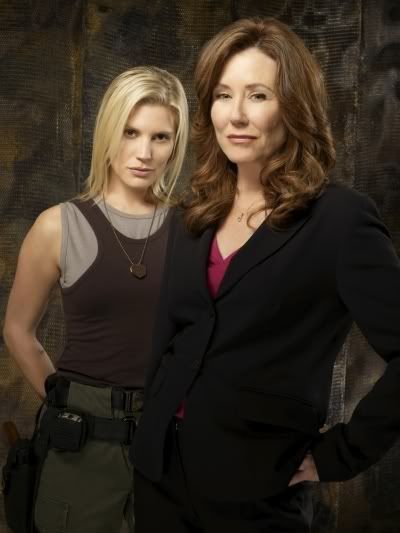 When Starbuck was temporarily killed off last season, it seemed like it was clumsily handled, the issue of whether you were actually gone and the show's reaction to it...looking back, do you wish it had been handled a little better or not mentioned at all? Is there anything you would have played differently?
KS: "I don't know. I know that you can only keep a secret a secret for so long; I know that as soon as I showed back up at work that it was going to be on the internet. Also I do think they should have kept me out until the very end. I mean, bringing Starbuck back in episode 16…what the hell was that? Why not wait 'til twenty? I guess in Ron's mind, he had a bigger cliff-hanger, and to have a bigger cliff-hanger than Starbuck coming back from the dead…only Battlestar Galactica could pull that off. With the crew and the cast thinking…that was not something I'd like to do again, that's for sure."
**snippage**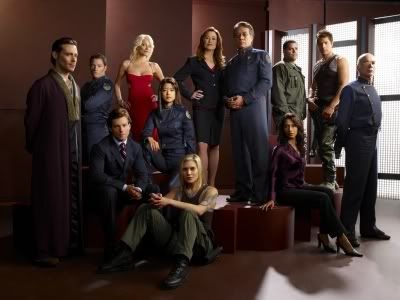 What do you think the impact of the show has had for the sci-fi genre?
KS: "Battlestar Galactica, for sci-fi was…they treated it like reality. That's what has been so interesting about our show, that we never relied on science-fiction to drive the show. We relied on the drama and the human condition…those really important questions were what we depended on for the show to move it along. Most science-fiction shows rely way too much on the bells and whistles. I think it's opened doors in science-fiction to realise that regardless of…science-fiction is just a setting. It's not a show, it's a setting. It should never have been what the show is."