From Sky One:
http://www.skyone.co.uk/competition/pgecompetition.aspx?cid=157&pid=-1
The long-awaited new film "Stargate: The Ark of Truth" picks up where Stargate SG-1 left off, thrusting the Stargate team - Daniel Jackson (Michael Shanks), Vala (Claudia Black), Teal'c (Christopher Judge), Sam (Amanda Tapping) and Cam (Ben Browder) - into their most exciting adventure yet. For more info – click HERE
The DVD is in stores on 28th April – but we've got a copy of the DVD signed by the cast to give to one lucky fan!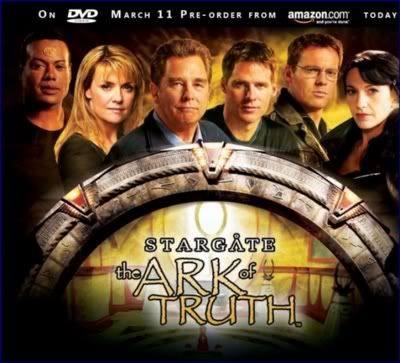 To win, answer this question:
What is the name of Ben Browder's character on Stargate?:
Cameron Mitchell
David Cameron
Mitchell Webb
Terms and Conditions:

http://www.skyone.co.uk/competition/pgeCompTerms.aspx?cid=157
A brief excerpt:
This Promotion is open to all UK, Isle of Man, Channel Islands and Republic of Ireland residents, aged 18 years or over.
If you're not already registered please click [at the site] as you need to be a member to enter competitions.