From Zap2it:

http://www.zap2it.com/tv/zap-story-battlestargalacticarevisited,0,1430923.story
(Please follow the link for the complete interview at Zap2It.)
Photo Gallery: 'Battlestar Galactica' - Season 4

http://www.zap2it.com/tv/zap-scifi-battlestargalactica_s4-pg,0,6315995.photogallery

The Long Goodbye of 'Battlestar Galactica'
By Kate O'Hare, Zap2it
March 28, 2008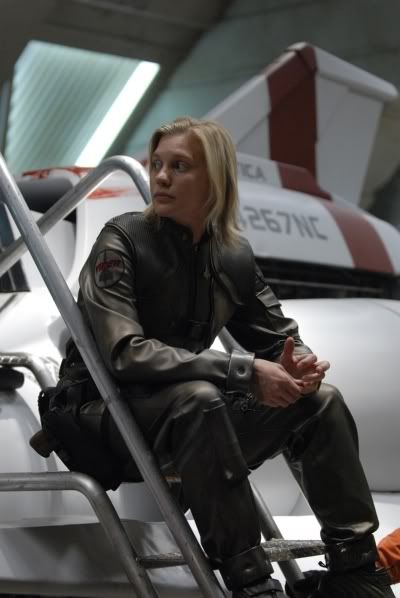 By now, it should all have been over for Sci Fi Channel's "Battlestar Galactica" -- filming wrapped, cast and crew scattered, episodes working their way through the post-production process.
But thanks to a three-month shutdown for the Writers Guild of America strike, this week instead marks the beginning of filming for the final group of episodes in the fourth and last season of "Galactica."
"It's still the last season," star Katee Sackhoff says. "It's just taking a lot longer to shoot the dang thing than we thought it would."
On Friday, March 28, Sci Fi airs two half-hour specials to launch the first half of the 20-episode season, which starts airing April 4.
**snippage**
"They thought she was dead," Sackhoff says, "and now she's back, which in everyone's mind says 'Cylon.' If we look at past shows, how do they treat Cylons? They airlock them.
"So, that's where we come in, with Starbuck getting the rare, beautiful treatment of a Cylon. It's fantastic."
**snippage**