From SciFi Talk:
http://www.scifitalk.com/
STAR TREK CAST AUDIO INTERVIEW ARCHIVES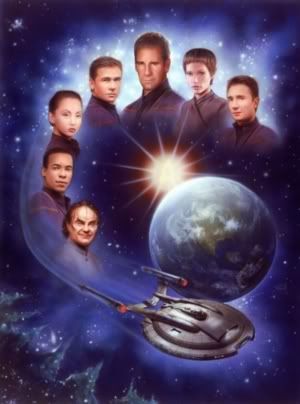 STAR TREK: ENTERPRISE
*
Linda Park
- Enterprise
It was great to have been there at the start of this series speaking to this talented actress on her rare off day. We discussed her role of Hoshi Sato and some key episodes for her early on. There's some interesting thoughts about her and the new crew joining the Star Trek family. We also briefly discuss her role in Jurassic Park III. Special thanks to Paramount Television. Music is Space by Victor Stellar.
http://media.libsyn.com/media/scifitalk/LindaPark.mp3
*
Dominic Keating
- Star Trek Enterprise
A conversation with this talented actor who was Lt Malcom Reed on Star Trek Enterprise. Discussion about the first and second season and some of the key episodes like Shuttlepod One, Communicator and Minefield. Also discussed some of his other film roles. Closing music by Cagey House. From 2002.

http://media.libsyn.com/media/scifitalk/DominicKeating.mp3
* Season One on DVD -
A special that looks at the release of season one of Enterprise featuring Tony Tellado's conversations with actors Linda Park, John Billingsley, and Dominic Keating. Added bonus includes comments by John Fleck who was Silik, the Suliban leader and Admiral Forest himself, Vaughn Arnmstrong. This special compiles interviews from 2001-2004. Great way to remember this cast and series.
http://media.libsyn.com/media/scifitalk/EnterpriseDVD1.mp3
*
Vaughn Armstrong
- Trek At 40 Celebration
To kick off my celebration of Star Trek's 40th birthday SciFi Talk will be showcasing interviews done with members of each generation. This edition has Vaughn Armstrong who in addition to playing Admiral Forest on Enterprise, has the distinction of being the actor who has played the most aliens on Star Trek. Nice candid conversation with a bona fide professional actor. The conversation is from 2003 at the end of season three of Enterprise.

http://media.libsyn.com/media/scifitalk/VaughnArmstrong.mp3
STAR TREK: VOYAGER
*
Jeri Taylor
- Star Trek Voyager
To celebrate the 30th Anniversary of Star Trek in 1996, Jeri Taylor, who was an executive producer on Star Trek Voyager, discusses the then new fourth season and her novel, Mosiac, looking at the back story of Voyager's captain, Kathryn Janeway. Also joining is Star Trek Editor, John Ordover plus comments by Dr Marc Okrand on Star Trek Klingon CD Rom game. Nice Star Trek memories to enjoy Voyager on DVD.
http://media.libsyn.com/media/scifitalk/JeriTaylor.mp3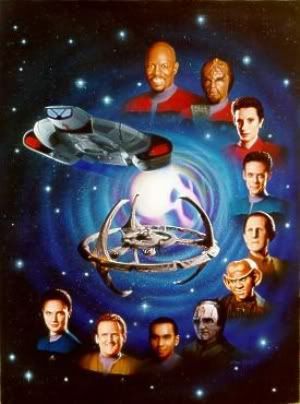 STAR TREK: DEEP SPACE NINE
*
Chase Masterson
A chat with the former Dabo girl turned First Lady at Icon about her CD, The Thrill Of The Chase plus a look back at Star Trek Deep Space Nine. From 2003.
http://media.libsyn.com/media/scifitalk/ChaseMasterson.mp3
*
Alexander Siddig And Andrew Robinson
- DS9
Alexander Siddig then known as Siddig El Fadil, played Dr Julian Bashir on Star Trek Deep Space Nine. Tony Tellado spoke with him about his character, Star Trek Fandom and his relationship with Garak, the lone Cardiassian on the station. Additionally, Tony Tellado spoke with Garak's alter ego, Andrew Robinson, who talked about his first venture into Star Trek, his favorite episodes and over coming typecasting. Great conversations with two men who played two characters that had an interesting relationship in Star Trek. Taped in 1996 at Icon.
http://media.libsyn.com/media/scifitalk/FadilRobinson.mp3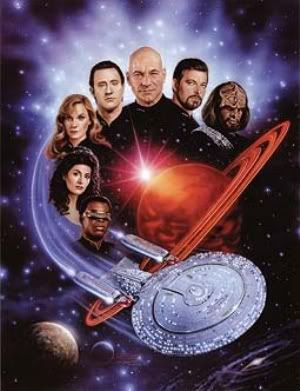 STAR TREK: THE NEXT GENERATION
* Star Trek Nemesis Special Edition DVD
Tony Tellado attended the 2002 radio roundtables and along with fellow reporters interviewed the cast and part of the crew. Patrick Stewart, Brent Spiner, Marina Sirtis, Tom Hardy, Rick Berman, and Director Stuart Baird all give their insights.
http://media.libsyn.com/media/scifitalk/Nemesis.mp3
* Star Trek At 40 - Part Two
More on SciFi Talk's coverage of Trek through out the years with Patrick Stewart, Jonathan Frakes plus cast members and creators from other generations. Lots of good stuff plus comments on Star Trek Novels and Nit Picks. Nice memories.

http://media.libsyn.com/media/scifitalk/StarTrekAt40Part2.mp3
* Star Trek At 40 - Part Three
Conclusion of Star Trek At 40 specials with a look at some great guest stars like John DeLancie, Alice Krige, James Cromwell, Alfre Woodard and Brad Dourif. Plus more soundbytes on make-up woes of the trek stars. Special thanks to all involved. Music provided for the special series by Cagey House. http://www.cageyhouse.com
http://media.libsyn.com/media/scifitalk/StarTrekAt40Part3.mp3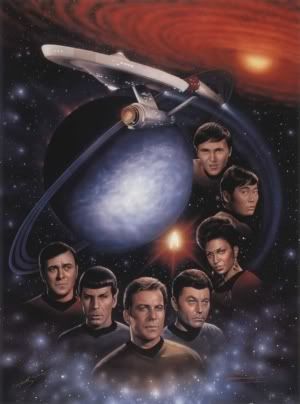 STAR TREK: THE ORIGINAL SERIES
*
James Doohan
A great time was had by all during this 1996 interview with Scotty himself conducted in New York City. Ernest Lilley joined Tony Tellado as Mr Doohan went back to his days serving for the Royal Canadian Air Force and of course, Star Trek. Nice tribute to this fine actor.

http://media.libsyn.com/media/scifitalk/JamesDoohan.mp3
* Star Trek At 40
Compiled from many of the interviews SciFi Talk has done in the last few years, many of the actors and creators associated with every generation of Star Trek give their views on the franchise. Featured are James Doohan, George Takei, Patrick Stewart, Jonathan Frakes, Michael Dorn, Marina Sirtis, Rene Auberjonois. John Billingsley, Andrew Robinson plus Herb Wright, STNG Producer, Herb Solow, Executive in charge of production of the original series and more...A true labor of love for SciFi Talk to celebrate Star Trek's birthday. First of Three Parts.
http://media.libsyn.com/media/scifitalk/StarTrekAt40.mp3