From Joseph Mallozzi's blog update for April 12, 2008:
http://josephmallozzi.wordpress.com/2008/04/12/april-12-2008-dont-judge-a-book-by-its-drop-dead-gorgeous-cover/

(Please follow the link for the complete blog update and for the full-sized, higher-resoltion version of the season five production photos -- David Hewlett and Kavan Smith dusty, bloody, and thirsty!)
Major Evan Lorne (Kavan Smith)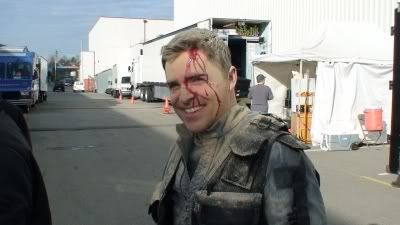 April 12, 2008: Don't judge a book by its drop-dead gorgeous cover
Well, as expected, reaction to the Whispers casting news has ranged from excitement and anxious anticipation to "Hey, Joe. Couldn't you cast anyone hideous?" Well, sure, we could have - but rather than basing our casting decision on looks, we chose to pick the best actress for each of the three roles.
I envisioned Teldy as a strong, by-the-book, leader; someone capable of leading her team into battle and going toe to toe with whatever is thrown her way be it an off-world mystery, an alien threat, or Colonel John Sheppard. There were a number of interesting candidates in the running, but after viewing Christina Cox's late audition it was hard to see anyone else in the role. Those familiar with Christina's work on shows like Blood Ties, Bones, and House know that she's an accomplished performer possessed of a commanding presence. Exactly what we were looking for in this case.
The search for someone to play the part of Dr. Alison Porter proved surprisingly tricky. Although she's described as a "cute nerd", Porter is really the most nuanced character of the bunch. The only non-military personnel on Teldy's team, she is in some ways her own little island - the most vulnerable of the foursome and yet, at the
same time, the most dynamic given the circumstances. Nicole de Boer actually read for Teldy and, as we sat there watching her audition, Paul and I thought exactly the same thing: "We've found our Porter!".
Nicole is an actress who, I'm sure, needs no introduction, having been a regular on shows like The Dead Zone and Star Trek: Deep Space Nine. She is someone we've been wanting to get on the show for a while now and we're pleased the opportunity has finally presented itself.
Of all the characters, the tough, wise-cracking Dusty was the most fun to write - and the most frustrating to cast. The fact is, there were a lot of great candidates for the role and, in the end, it came down to two terrific actresses. Janina Gavankar got the nod on the strength of her ballsy read and wonderful comic timing. Those of you who may not be familiar with Janina's range should check out her run as Papi on The L Word.
Over the hiatus, I pitched out the idea of introducing an all-female team as a means of addressing the male-female imbalance on the show. I would introduce them in an early script and whoever survived the episode could potentially be brought back as a recurring character. As Martin started work on the season premiere, Search and Rescue, he suggested he introduce one of the team members in his episode - a character that eventually became Captain Alicia Vega. Leela Savasta came in and delivered a fantastic audition for the role. Our reaction upon watching the video of her session was something along the lines of: "Hey, where the hell did she come from?" After 11+ years of Stargate, you think you've pretty much seen everyone in town - and then some young and talented newcomer appears on the scene. The last time we had a "Hey, where the hell did she come from?" reaction, it was a couple of years ago while watching an equally talented young up-and-comer audition for a two-line part on SG-1. We didn't cast her because it was such a small part that we figured we could give her a meatier role later in the season. When later came, I called up our local casting director and asked if we could see her again. "Sorry," he replied. "She's shooting a pilot in Hawaii." The pilot: Lost. The actress: Evangeline Lily. And, yep, I think Leela has the potential to be just as successful.
Today's pics: Have I already posted these? Didn't think so.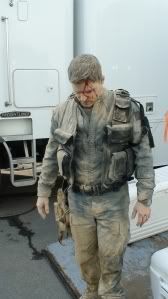 Mailbag:
**snippage**
PG15 writes: "What do you think about removing one of Atlantis's piers, permanently, during some battle or explosion or something? Do you guys think you'll ever do something like that, damage one of the show's vehicles permanently?"
Answer: It's possible, but I'm reluctant to make a change for the sake of one episode that would effectively render all of our existing city establishing shots useless.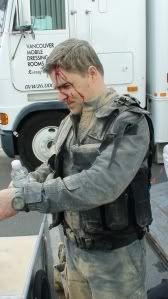 **snippage**
David writes: "Are the new characters going to reocurring throughout the entire season, or just one or two episodes?"
Answer: That depends on a lot of things. First and foremost = who survives the episode.
Dr. Rodney McKay (David Hewlett)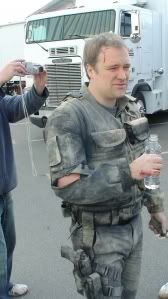 **snippage**
Angel234 writes: " Since the SG1 movies are now completed, what has become of the standing SGC sets?"
Answer: They're still standing. But when it comes time to tearing them down and tossing out the old gate, I'll give you a heads up. Do you think you'd have room for it in your backyard?
SingsingandBeakman writes: "Speaking of monster personalities: how is Jason M's personality really?"
Answer: He's a sweetheart.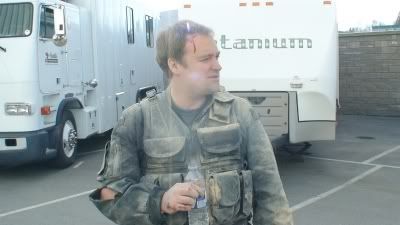 David Oulton writes: "Quick question…is David Hewlett as bad as what everyone says he is?"
Answer: If by "everyone" you mean yourself, then - no. I've never known David to be anything but great in interviews and the special features.