From
The SciFi Guys
:
EXPO REWIND CONTINUES THIS WEEK WITH ALESSANDRO JULIANI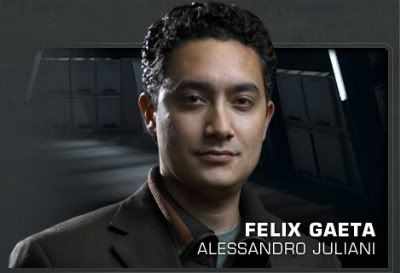 After last weeks return with part one of the Expo Rewind show featuring Edward James Olmos (now available to
download
), The Sci Fi Guys return with another look back at the phenomenal event with the help of special guest Alessandro Juliani (Felix Gaeta on
Battlestar Galactica
).
Interviewed at the London MCM Expo by Expo Radio presenter Sinead Doyle, Alessandro who plays talks about his work on
Battlestar Galactica
and what it is like attending events and meeting the fans and much more.
Aside from this Stuart will be joined by Expo Radio producer Gareth who will not only share his memories of the event but also join Stuart in casting their eyes over the week's news from the world of Sci Fi, Cult TV, Movies and much more.
Stuart will also be revealing all about the mysterious website related announcement that he hinted at in the last show and he will also be announcing the first of the eXcellent summer of Sci FI competitions.
The fun starts at 8pm BST (British Summer Time) this Wednesday 9th July on
http://www.dtrn.co.uk
and in the meantime don't forget to check out the forums for all the latest DTRN news and off air discussion.