At
Yahoo! TV
: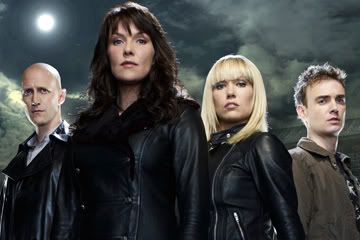 Top 10 Anticipated New Shows
The Great Writer's Strike of 2007-08 lasted 100 days, but the wounds are still visible in the Fall '08 TV line-up. Fans with a craving for new series will find the typically abundant fall pickings relatively slim, but there are a handful of newbies that sparked some fevered Yahoo! search action. Click through this slideshow to countdown the Top 10 most anticipated new series according to Yahoo! Buzz.
#10 THE MENTALIST
#9 OPPORTUNITY KNOCKS
#8 LIFE ON MARS
#7 EASY MONEY
#6 TRUE BLOOD
#5 SANCTUARY
** Weaned on the Web, "
Sanctuary
" moves into slightly larger environs when the science-meets-supernatural show crosses over to the SciFi Channel. The show's creative legacy stems from the "Stargate" series, and its webisode venture allowed fans to do video mash-ups. Don't expect a cyberspace storyline to carry over: Star
Amanda Tapping
(who looks pretty good for a 157-year-old doctor sniffing out undercover alien residents) reports that the TV version will be different. What will be the same: continued use of digital sets, a la "Sin City" and "300," making "
Sanctuary
" the first TV show ever to employ virtual backgrounds. Premieres Friday, 10/3 at 9pm on SciFi
#4 FRINGE
#3 SONS OF ANARCHY
#2 KNIGHT RIDER
#1 "90210"