At
Starlog Magazine
:
(Please follow the link for the complete interview excerpt.)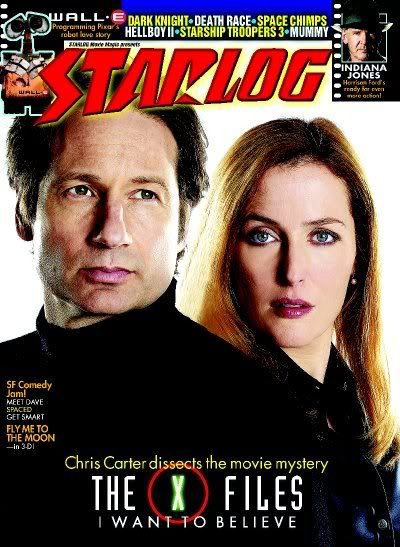 A SPACED Odyssey by JOE NAZZARO
Science fiction and comedy are an uneasy mix. True, a GALAXY QUEST or RED DWARF will occasionally come along and get it right, but by and large the two genres don't play well together.
However, as a legion of loyal British fans already knows, that short list of SF comedy gems includes SPACED, the cult show that ran on UK television from 1999-2001.
The series, about Daisy and Tim (
Jessica Stevenson Hynes
and
Simon Pegg
)--a pair of slacker 20-somethings who pose as a couple in order to rent a London flat together - is packed with genre references: from a RESIDENT EVIL-like zombie parody to Tim's anguish over THE PHANTOM MENACE...
SPACED: The Complete Series (BBC Video, $59.98) is packed with extras, including new commentary by the likes of Quentin Tarantino, Kevin Smith, Matt Stone and Diablo Cody.
For those unfamiliar with SPACED's origins, the series began when Pegg and Hynes decided they were disillusioned with the UK comedy output for people in their age group.
"All the sitcoms about people in their mid-20s were written by people in their mid-40s, who really had no idea about what the experience of being that age at that time was, and we just felt we were being under-serviced, so we figured, 'Let's write one for ourselves,'" Pegg explains.
"We were both fans of shows like THE SIMPSONS, NORTHERN EXPOSURE and THE X-FILES, and we wanted to make a slightly hyper-realistic stylistic sitcom, which nevertheless was very true to the concerns and pastimes of people in that age group.
We were actually approached by a network in the UK who said, 'We would like to make a vehicle for you and Jess,' and we either naively or arrogantly, I can't remember which, said, 'OK, but we want to write it!' And they went along with it..."
Read Simon Pegg's complete interview in STARLOG #368, ON SALE NOW at newsstands and bookstores near you.
Don't miss an issue! You can subscribe
here
.