At David Hewlett's 'A Dog's Breakfast,'
blog
update for August 31, 2008:
(Please follow the link for the complete blog update.)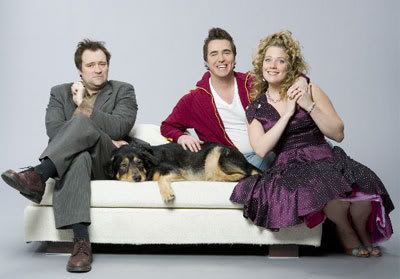 David Hewlett, Mars (the dog), Paul McGillion and Kate Hewlett
Pushing the dog and finishing McKay
Written by dgeek
Sunday, 31 August 2008 18:08
Greetings strangers!
...Weird shooting the last few episodes of Atlantis, I must say. Cooper's giant episode "
Vegas
" is going to keep me busy all weekend with the brain stomping amount of McKay dialogue next week...I'm not going to miss that aspect of things...then again, maybe I will! Next up, we're on to the 100th and last episode followed by a fancy 100th episode party that is now serving as the final wrap bash.
I'm getting tons of email with well-wishes and reactions to the cancellation and I really appreciate your kindness and enthusiasm for what we do and did here at Atlantis. Obviously I'm all for you letting me know, but make sure you do the same to MGM, FOX, SciFi, and any channel you've been watching us on...they really need to know how much you want to see McKay...I mean Atlantis...back on TV!
No word on the Atlantis movie yet, but I imagine info will trickle in once the writing department is finished with season five.
MGM/FOX has just let us know that they've decided to hold off on an international release for "
A Dog's Breakfast
" until February 2009...ARRGH! We've been pushed so many times and heard so many conflicting things now that we're finding it hard to get that excited.
So for the record, the "official word" is that "
A Dog's Breakfast
" will now be released in the following markets to tie in with the release of season five of ATLANTIS. You should be able to get the film in Belgium, The Netherlands, France, Germany, Italy, Spain, Sweden, The UK, and Australia at the same time you're picking up your last twenty episodes of Atlantis...
lots of love
D!