At Joseph Mallozzi's
blog
update for August 31, 2008:
(Please follow the link for the complete blog update, and to view the NEW behind the scenes photos from
Stargate Atlantis'
'
Whispers
,' plus a new food weird food purchase video.)
August 31, 2008: The Blue Screen of Death, A Horrific Crime and the Likely Suspects, The Weird Food Purchase of the Day - Guest Edition
I would seem my laptop is not long for this world. Twice, yesterday, I fell victim to the blue screen of death. One second, I'm copy and pasting the day's blog entry into the wordpress window and, the next, my computer is rebooting. I ended up spending most of last night watching Mad Men while I backed up two year's worth of blog entries, scripts, pics, videos, and contacts. It was while I was going through
my photo archive that I discovered a whack o'
Whispers
snaps I was holding back on, some of which I've posted today, plenty more of which I'll be posting in the days ahead.
**snippage**
And another reminder that if you read
The Church of Dead Girls
and have a question for author
Stephen Dobyns
, let's seem 'em. Allie, this means you!
Today's video: The return of The Weird Food Purchase of the Day. In this installment, guest eater
Carl Binder
samples ox-tail.
Mailbag catch-up:
GrapesofWraith writes: "A quick question - do the stairs at the end of the video lead up to the production offices, or are they in a different building?"
Answer: Yes, they do. The stairs let out onto a corridor. Take a left, and it will take you down past accounting to the art department. Take a right and you'll hit a door (see the production offices walk-thru vid).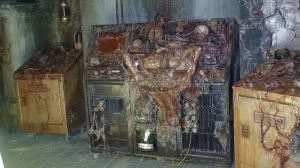 Anais33 a ecrit: "Pourquoi ne jamais répondre a mes questions? Vous n m'aimez pas?"
Reponse: Si vous avez envoyer votre question, j'ai pu l'avoir manqué. Si vous avez une question, Il est plus facile pour moi à repondre a vos questions ici.
Translation: If you're looking to get a question answered, post them here instead of sending me an email.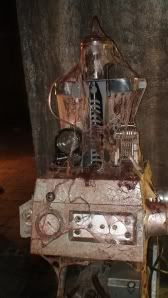 Ben writes: "And also where do we sit in terms of getting another SG1 movie?"
Answer: If all goes as planned, we should be filming both the SGA movie and the third SG-1 around the same time next year.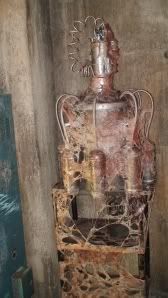 PG15 writes: "Good to know we'll get to see the SGC one last time before the Atlantis series…*sniff*…finishes. Does that mean we'll see Walter too?"
Answer: Yes, Walter will put in an appearance before the series ends.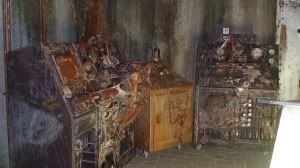 NIMBUS writes: "I'm wondering why the Destiny crew won't be able to land on the new planet and use its Stargate to send a rescue team to a previously visited planet?"
Answer: I can't wait to find out the answer myself.