From
Stargate Planet
:
(Please follow one of the links for the complete interview.)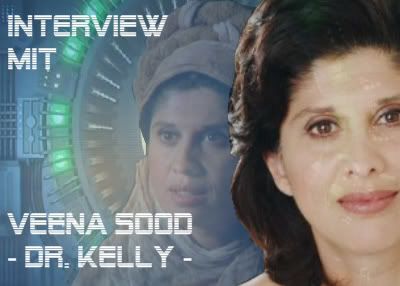 GERMAN
ENGLISH
A brief excerpt:

Interview with Veena Soot (08/2008)
Veena Sood
was born in Nairobi, Kenia. She's of East Indian descent and immigrated to Canada with her family. She has dual citizenship to Canada and the UK. In Canada, she's based in Vancouver and we're grateful that she's taking some time off her busy schedule to answer a few career related questions for our German website visitors.
S-P.de: In the last episode of
Stargate SG-1's
season 6 ("Full Circle") you played an Abydonian woman; in 2006 in the episode "Stronghold", you played the character of "Dr. Kelly". How did you prepare for these characters and what could you tell us regarding the shooting of your scenes of these two episodes?
VS: The Abydonian episode was fun because we were playing people from another world. So it was nice to be in different types of wardrobe, and inhabit a new world. For "Dr. Kelly" I basically had to be a straightforward Dr. A part I've done many other times in film and TV!