At
Imagine Publishing
: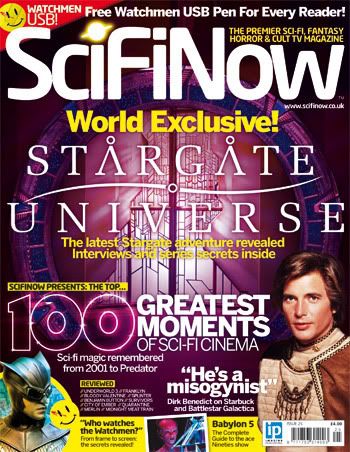 I'M JUST A PUPPET WHO CAN SEE THE STRINGS
Officially on sale 19 February, SciFiNow issue 25 is the latest issue of the UK's premier science fiction magazine. Here's a small taster of what's in store in our new issue, which includes a free Watchmen DVD loaded with behind-the-scenes content.
Inside:
• It's a whole new galaxy out there...we talk to
Brad Wright
and
Robert C Cooper
in our world exclusive interview about the transition from
Stargate Atlantis
to
Stargate Universe
.
• Our news this month brings you the word on the state of genres shows hovering between renewal and cancellation, the lowdown on the best films coming your way soon, and a look at the latest developments in the world of the fantastic.
• Our additional Watchmen preview compliments our previous interview-packed feature by taking a look at the film's long and rocky road to the big screen.
• We talk to
Dirk Benedict
, of
The A-Team
and
Battlestar Galactica
, about Starbuck, his other work in film, and his somewhat...outspoken political viewpoints.
• We also talk to
Craig Charles
about the new
Red Dwarf
, the US adaptation, and the possibility of a big screen outing.
• We celebrate the genre SciFiNow style, with our pick of the top 100 moments in science fiction cinema.
• Ever wondered if...? We give our dream cast for a proposed remake of
Automan
.
• The most trustworthy reviews of the latest film and DVD releases.
• A wealth of book, comic and graphic novel reviews.
• It was our last, best hope for peace...it failed. Our Complete Guide to
Babylon 5
, however, succeeds where the station itself didn't quite manage King Kong lead our signature Timewarp section.
• The Fanboys section continues to cover all the hottest convention and memorabilia news, including a collector's guide to Halloween.
• We have a field day nitpicking our way through
Spider-Man 3
.
• Our history of literary horror this month has an in depth look at one of the most controversial figures in literature, religion and modern society as a whole:
L Ron Hubbard
.
• And all you could want from the UK's premiere science fiction, horror, fantasy and cult magazine.
The ninth chevron is locked, and issue 25 gates into all good newsagents on 19 February 2009!
Those lucky enough to be subscribers will have made a huge 30% saving, so why not pop on over to our
eShop
and join them today.