At
TV Guide Canada
:
(Please follow the link for the complete interview.)
Roll them 'Bones'
By
Greg David
2010-05-05
Author Kathy Reichs pens her first 'Bones' episode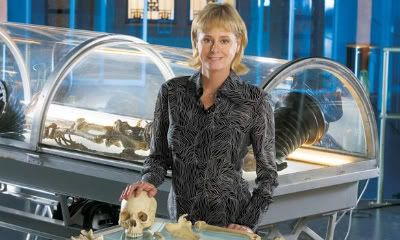 For the uninitiated,
Bones
is inspired by the adventures of a real-life woman.
Kathy Reichs
divides her time between Montreal and Charlotte, N.C., where she is a forensic anthropologist for the Laboratoire des Sciences Judiciares et de Médecine Légale in Quebec and a professor of anthropology at the University of North Carolina.
When she's not doing those two gigs, she writes novels starring one Temperance Brennan that are based on her life. Those tales served as the jumping-off point for
Bones
, Fox's prime-time hit procedural.
Five seasons in,
Reichs
finally took pen to paper and wrote her first
Bones
episode, called "The Witch in the Wardrobe." In it, Brennan (
Emily Deschanel
) and Booth (
David Boreanaz
) are called to a burned-out cabin, where the skeletons of a modern-day witch and one from the days of the Salem Witch Trials have been discovered...