At
Hub Productions
:
(Please follow the link for the complete DVD description.)
Stargate DVD
Price: $55.00 [probably Australian $ - in US $ that would be roughly $50]
Description
The biggest
Stargate
Convention Package ever assembled!
After over 6 months in production, The Hub Productions and Turncoat Studios are very proud to present a souvenir DVD package like no other: a four disc souvenir DVD set spanning across all three
Stargate
television shows!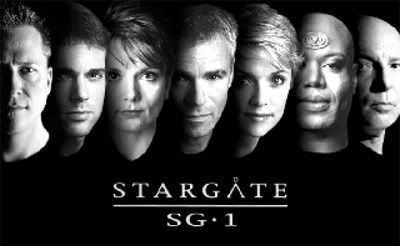 Featuring coverage from four different conventions, from Perth, Sydney and Melbourne, Stargate 2010 contains over 15 hours of footage that you will not see anywhere else from a huge line-up of guests including:
Ben Browder
Claudia Black
Michael Shanks
Chris Judge
Dan Shea
Joe Flanigan
Paul McGillion
Jason Momoa
David Nykl
Connor Trinneer
Christopher Heyerdahl
and
David Blue

With so much content from so many guests, this DVD package is spilling over with highlights such as
Dan Shea
and
Chris Judge
going head to head in a shirtless push-ups competition;
Joe Flanigan
tackling a very surprised
Paul McGillion
and
Jason Momoa
;
Michael Shanks
auctioning off the shirt of his back to charity;
Connor Trinneer
and
David Nykl
arguing the science behind who would win in a fight between astronauts and cavemen;
Chris Judge
pretending not to know who
David Blue
is; and
Ben Browder
and
Claudia Black
being joined on stage by their
Farscape
co-star
Gigi Edgley
.
Stargate 2010
is loaded with these and other unforgettable highlights and is the ultimate companion for any die-hard
Stargate
fan.