At
TV Guide Canada
:
(Please follow the link for the complete article.)
Humour in this 'House'
By
Greg David
2010-04-23
Silly, scrumptious SyFy hit finally bows in Canada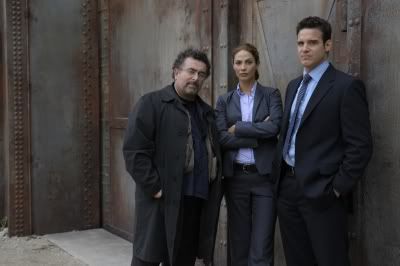 Saul Rubinek, Joanne Kelly and Eddie McClintock
You'd be excused if – at first glance – you thought
Warehouse 13
was a lot like
The X-Files
.
After all, the SyFy series, which debuts Season 1 on Citytv April 23 (in the crappy 10 p.m. timeslot, I might add, almost 10 months after it bowed in the U.S.), follows two government agents as they "snag, bag and tag" mysterious artefacts, supernatural relics and fantastic objects from around the world.
Myka (
Joanne Kelly
) is straitlaced and by-the-book, while Pete (
Eddie McClintock
) is off-the-cuff and willing to charge in without waiting for backup.
"Mulder and Scully – are you kidding me?" enthuses Kelly from the show's set, today a junk yard in Toronto's suburbs. She's clearly flattered with comparison. "The major difference between us and them is that we're not strictly a drama. We much more walk the line of comedy..."