From
SFX Magazine
:
(Please follow the link for the complete Table of Contents.)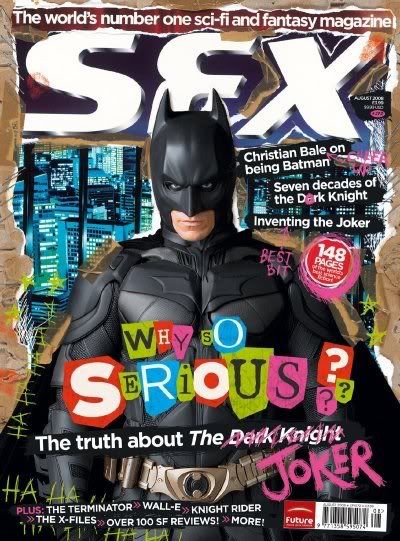 Tuesday July 01, 2008
Latest issue
SFX 172 – August 2008
On sale Wednesday 2 July 2008
FREE STUFF!
This month we're giving you a free exclusive set of 2000 AD playing cards, packed with some great comic book art. Get stuck in! (Also: if you happen to get your copy from Tesco, you'll find a bonus Dungeons & Dragons miniature figurine too.)
THE DARK KNIGHT
We were on-set for the filming of the hotly anticipated Bat-sequel. Read exclusive interviews with Christian Bale and director Christopher Nolan in our behind the scenes report. Plus some green haired delinquent has been seen defacing this month's cover, no prizes for guessing who this Joker is.
TERMINATOR
We look back at the film that started it the killer-cyborg franchise with anecdotes from Terminator's cast and crew and we're also looking forward to Terminator Salvation as the film's producers gear up for John Connor's war against the machines.
**snippage**
PROFILES
We interview your favourite FBI agents David Duchovny and Gillian Anderson for their thoughts on the new X-Files movie. Plus self-published author Scott Sigler tells us all about how he refused to let rejections keep him down.
SPOILER ZONE
It's finales aplenty this month - check out our verdicts on the season closers for Lost, Smallville, Supernatural and many more.
PLUS!
BIG SHOT: We look at the cast of JJ Abrams' new show Fringe.
FREEZE FRAME: The SFX gang look at the shiny new CGI action in the Star Wars: The Clone Wars trailer.
News on the latest Stargate SG-1 DVD movie Continuum.
**snippage**
All this and lots more...