At
NBCUMV
: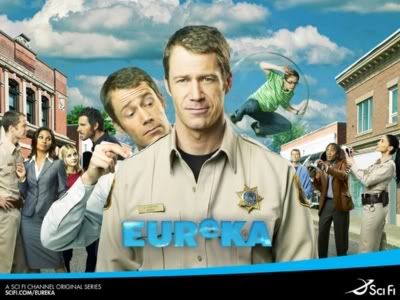 SCI FI'S EUREKA SCORES WITH BEST SEASON TO DATE
Published: September 25, 2008
NEW YORK — Sept 25, 2008 — With the conclusion of the first half of its 3rd season (Season 3.0) on Tuesday night, SCI FI Channel's hit original dramedy
Eureka
had its best season average to date with 1.56 million adults 25-54.
Ratings highlights include:
·
Eureka
completed Season 3.0 with its best season average ever in P25-54s, 1.56 MM P25-54s (note that this includes full DVR playback for only five of the season's eight episodes).
·
Eureka
was the #1 cable entertainment program in August and September on Tuesdays for P25-54 viewers.
·
Eureka's
Season 3.0 produced double-digit increases vs. the summer 2007 Season 2 in HH ratings (+11%), total viewers (+12%) and P25-54s (+12%). The series has also increased by +3% among P18-49 viewers.
· The first half of Season 3 of
Eureka
averaged a 2.1 HH rating, 1.310 MM P18-49, 1.560 MM P25-54 and 2.776 MM total viewers to-date in Most Current Data.**
Eureka
is an offbeat, relatable dramedy with a unique sci-fi twist. Nestled in the Pacific Northwest, Eureka is a small town with big secrets. Shrouded in secrecy, the picturesque hamlet is actually a community of geniuses assembled by the government to conduct top-secret research. What they've unwittingly created is a place where anything imaginable can happen… and does.
Eureka
airs Tuesdays @ 9pm ET/PT only on SCI FI.
Executive produced by
Jaime Paglia
and
Charlie Craig
,
Eureka
stars
Colin Ferguson, Salli Richardson-Whitfield, Joe Morton, Jordan Hinson, Ed Quinn, Erica Cerra
, and
Neil Grayston
. The show is produced by SCI FI Channel, in association with Universal Cable Productions.
**The "most current" data for
Eureka
includes full DVR playback for only five of the season's eight episodes.