At
SciFi Wire
:
(Please follow the link for the complete article.)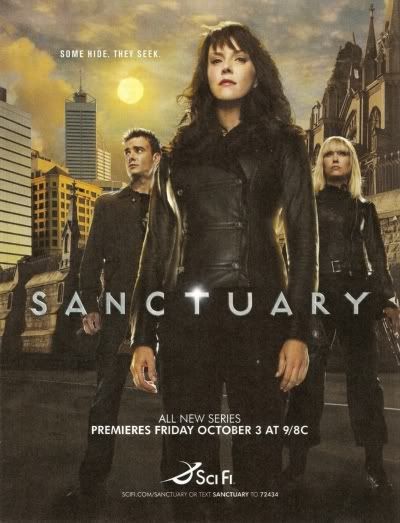 12:00 AM, 26-SEPTEMBER-08
TV Smackdown V: Sanctuary Vs. Blood
This week, SCI FI Wire will run a daily series of stories looking at the competition among new television series we like to call our Fall TV Smackdown. We'll pit two fall shows against each other and see which one comes out the winner. Are the comparisons fair? Of course not. It's about as fair as Sylar cutting open Claire's brain in the Heroes season premiere.
It's all about the ladies in this sci-fi-vs.-fantasy feature matchup as SCI FI Channel's new original series
Sanctuary
takes on HBO's
True Blood
. It's a monster mash that has a cool, virtual world with
Amanda Tapping
in one corner and hot, randy vamps with
Anna Paquin
in the other ... with accents.
True Blood
. HBO, Sundays, 9 p.m. ET/PT. Premiered Sept. 7. After the invention of synthetic blood allows vampires to "come out of the coffin"--they don't have to feed off humans anymore--they've managed to gain rights as citizens...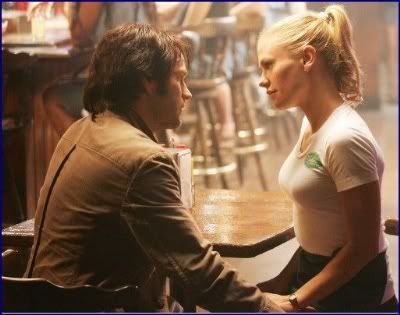 Sanctuary
. SCI FI, Fridays, 9 p.m. ET/PT. Premieres Oct. 3.
Sanctuary
is billed by SCI FI as the first television series to feature live actors against primarily virtual sets, along the lines of
300
and
Sin City
. While it began life as an eight-episode Web series, the television show features a two-hour premiere that starts at the beginning of the story. While investigating a murder case, forensic psychiatrist Dr. Will Zimmerman (
Robin Dunne
) begins to suspect the explanation offered at a murder scene. Will soon discovers that his suspicions are right. When a woman named Dr. Helen Magnus (Tapping) approaches him, she takes Will to a place she calls the Sanctuary and tells him an amazing tale. According to Magnus, the world is filled with Abnormals, fantastic creatures that are the stuff of fairy-tale books and incredible legends. The world needs to be protected from some of them, while others need to be protected from the world. Magnus has made it her mission to find and study these creatures and to offer them sanctuary if they want it. She is joined on her mission by her fearless daughter, Ashley (
Emilie Ullerup
), a loyal butler who looks a lot like Bigfoot and their technical wizard, Henry. As Will learns more about Magnus' world and her nemesis, John Druitt (
Christopher Heyerdahl
), he must decide whether he can "dare to believe in the unbelievable."
Sanctuary's
Secret Weapon: With an incredible virtual world and a brunette Tapping with an English accent, who needs reality?
Sanctuary
is executive-produced by Tapping, creator
Damian Kindler
,
Martin Wood
and
Sam Egan
.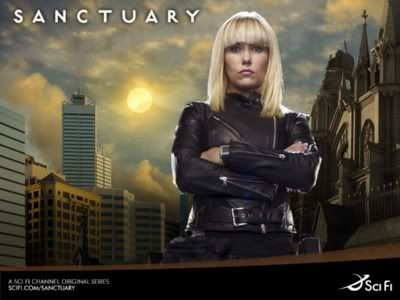 The Outlook: SCI FI's big new SF entry,
Sanctuary
, offers to put Tapping back in action in a role very different role from
Stargate SG-1's
Lt. Col. Samantha Carter, and that's a good thing. Beyond that, it's dripping with mythology and has loads of action and extremely cool visuals, not to mention some nicely drawn characters. Along with
Fringe
,
Sanctuary
has more of a fully realized world than any of the other fall offerings. Taking up residence on Friday nights, the series should be an excellent match for
Stargate Atlantis
. With 13 episodes ordered, look for
Sanctuary
to do very well for SCI FI.
The Winner: It's going to be a knock-down, drag-out marathon, with True Blood already being renewed for a second season and Sanctuary a shoo-in, considering that Battlestar Galactica and Stargate Atlantis are headed out. Let's call this one a draw, with virtual fangs. --Kathie Huddleston