At
CinemaSpy
:
(Please follow the link for the complete four-page interview.)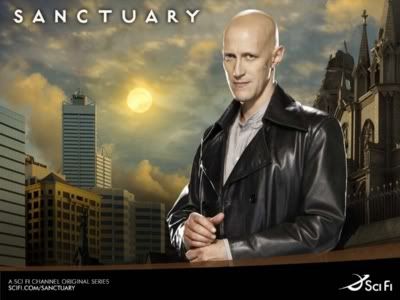 Exclusive Interview: Christopher Heyerdahl
On 'Sanctuary', 'Stargate', humanizing villains and supporting Canadian film.
By Michael Simpson | Thursday, September 25, 2008
Like every hard-working character actor,
Christopher Heyerdahl
has worn many faces. Yet, he probably goes unrecognized by most people on the streets of Vancouver, Montreal or Toronto, where he often plies his trade. Heyerdahl was born in Vancouver and that city has been a particularly good base for him. As Hollywood North, it has provided Heyerdahl with opportunities for roles in several films and television series produced by American studios, including
Smallville
,
Psych
,
Masters of Horror
,
Jeremiah
,
Andromeda
,
21 Jump Street
,
The Dead Zone
,
The Collector
,
Blade: Trinity
and
The Chronicles of Riddick
. Heyerdahl has also appeared in
Stargate SG-1
and had two recurring roles on
Stargate Atlantis
. In one of those roles he plays a Wraith named Todd, who has become one of the series' most popular returning characters. The role might have made Heyerdahl's face more familiar, except that he is concealed under the prosthetics that make the Wraith one of the scariest (and ugliest) alien races on television.
It is thanks to his work with
Stargate
regulars
Amanda Tapping
,
Martin Wood
and
Damian Kindler
, however, that Heyerdahl will play a prominent role in the upcoming series
Sanctuary
.
Sanctuary
is bucking the trend of Vancouver-shot shows and being exported down to the United States. It stars Tapping as monster-hunter Dr. Helen Magnus, who has a long and turbulent association with Heyerdahl's character, Montague John Druitt. Druitt is ostensibly the series' chief villain.
Sanctuary
was created by Kindler and first saw life as an eight-webisode Internet series directed by
Martin Wood
(who will be interviewed shortly on CinemaSpy). CinemaSpy recently caught up with Heyerdahl as filming of the first season came to an end. In the interview he discusses
Sanctuary
, the appeal of fantasy roles and his commitment to Canadian film and television.
A brief excerpt:
CinemaSpy: How did you get the part of John Druitt in Sanctuary?
Christopher Heyerdahl: Well, that's a good question. I was shown the script [and they said,] "Here, take a look at this Chris and just have a good read. It's a great script." And I looked at it. I fell absolutely in love with this character of Montague John Druitt. Just the tragic essence of the character was very attractive to me and I thought, 'Oh, if anybody else gets this part I'm just gonna...now maybe I'll become the murderer.' And I was given a call from Martin Wood about a half an hour before I had to actually speak. He said, "Christopher, we're doing this reading and I'd love you to come and read for us around the table. We're reading that script.' And I said, "OK, great." And so I jump on my bike and head out there and I arrive there about a half hour late, and they're already into the reading. I sit down and along comes Druitt and I start reading. I had such a wonderful time reading that. And at the end of it they just pulled me aside and said, "It's yours." I had no idea it was an audition or anything like that. I just was coming in for a reading for the producers and director and all the creatives and I ended up getting the part. So it was a surprise. [laughs] A very pleasant surprise.