At
Multichannel News
:
(Please follow the link for the complete article.)
EXCLUSIVE: Sci Fi Buys 'Stargate SG-1' Flicks For Spring '09 Schedule

Scores U.S. Rights to Premiere Made-For-DVD Movies
By Kent Gibbons -- Multichannel News, 9/26/2008 2:27:00 PM
Sci Fi Channel has acquired the U.S. television rights to premiere both of the
Stargate SG-1
made-for-DVD movies released so far by MGM, with plans to make them Sunday-night movie events next spring, network officials told Multichannel News Friday.
Stargate: Ark of Truth
, released as a DVD this past March, will air first, in early spring, and
Stargate: Continuum
, released as a DVD this past July, will air late in the spring, according to Thomas Vitale, senior VP of programming and original movies at NBC Universal-owned Sci Fi.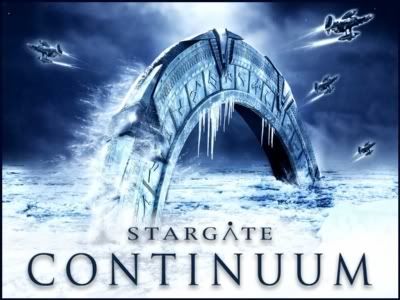 Vitale wouldn't reveal the purchase terms, but said it was part of a deal that also included the new TV series
Stargate Universe
, scheduled to debut on the channel next summer (possibly July).
Sci Fi also ordered from MGM and the Stargate production team a made-for-TV movie to follow
Stargate Atlantis
, the series that's wrapping up its run on Sci Fi with the current, fifth season. The 100th and last episode of Atlantis finished shooting last week.
The Atlantis movie might not air until late next year, Vitale said, and could act as a "bridge" when Universe takes a break. Sci Fi generally splits its series seasons in two with several months in between the first and second set of episodes...