At
Media Blvd Magazine
:
(Please follow the link for the complete interview.)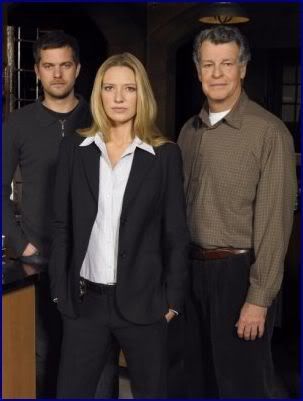 Joshua Jackson, Anna Torv and John Noble
Joshua Jackson and J.J. Abrams on "Fringe"
Wednesday, 10 September 2008
By Christina Radish
From
J.J. Abrams, Alex Kurtzman
and Roberto Orci, the team behind
Star Trek
,
Mission: Impossible III
and
Alias
, comes
Fringe
, the new Fox television series that will thrill and terrify while it explores the blurring line between the possible and the impossible. FBI Special Agent Olivia Dunham (
Anna Torv
), the brilliant but formerly institutionalized scientist Walter Bishop (
John Noble
), and his scheming, reluctant son Peter (
Joshua Jackson
) uncover a deadly mystery involving a series of unbelievable events and realize that they may be part of a larger, more disturbing pattern.
The show's star,
Joshua Jackson
, returning to television for the first time since
Dawson's Creek
, and co-creator/executive producer/writer
J.J. Abrams
spoke with MediaBlvd Magazine about the possibilities of fringe science.
A brief excerpt:
MediaBlvd> With the chemistry that Anna and Josh have going on, will there be love in their characters' future?
Josh> It would have been inappropriate in the pilot because it's awkward, hitting on a woman when her boyfriend is dying in front of her eyes.
J.J.> Now, the odds are so much better. There's, no doubt, going to be a slow burn relationship that develops between the two of them. I don't think it will happen exactly as you might think, but there obviously will be a dynamic there that we will play up. It just needs to be done right. There's a lot going on in their lives, on the show, that are more urgent issues, but over time, there's definitely going to be a relationship between the Peter and Olivia characters.