At
SheKnows
:
(Please follow the link for the complete article.)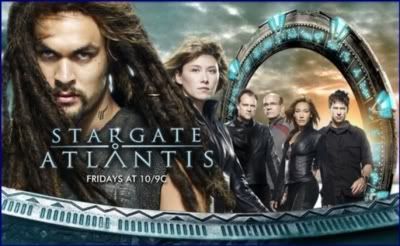 Atlantis goes into stasis
Stargate Atlantis ends its series run: Cast and crew react to the news
Nancy J Price
When word broke at the end of August that
Stargate Atlantis
, one of the shining stars in the Sci-Fi Network galaxy, was being canceled, ardent fans weren't the only ones who felt blasted with a stunner. After all, the show was only in its fifth season, and was more successful than ever. Straight from the set, SheKnows got reactions from series regulars as well as the show's executive producer.
More than a feeling
"Going in [to season 5], I had a feeling that this could be the last season of Atlantis, just because of the economics," says series showrunner Joe Mallozzi. "The more years you're on the air, the more expensive it gets to produce."
Shock and awww
"The thing about this industry is that every year you're up for renewal. Every year there's the possibility that it may come to an end," adds David Hewlett, the man behind the adorably arrogant Dr Rodney McKay on both Stargate SG-1 and Stargate Atlantis. "We got notified a little earlier in the year than we expected –- normally it would be November or so. So it was a little bit of a shock. "

Bittersweet sympathy
That's also how Ronon Dex's alter ego Jason Momoa described the mood. "I'm little sad to be leaving a family of four years behind... Four years is a long time to play a character. So it's kind of bittersweet."
A short-timer's attitude
So what's life on the set like now as the cast is filming their last few episodes? "It's that weird sort of feeling of you're still at work, but you know it's done," says Hewlett. "There's a weird mix of sadness at the fact that we've been doing this for five years, and it's kind of hard not to get attached." After a beat, a goofy little grin creeps up onto his face. "But at the same time, there's a certain amount of 'Woo hoo! What's next? Let's go!'"