At
Newsarama
:
(Please follow the link for the complete interview.)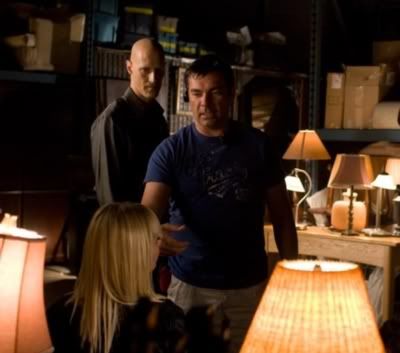 Actors Christopher Heyerdahl and Emilie Ullerup and Director Martin Wood
TV
Green Screen Cowboy: Directing SCI FI's 'Sanctuary'
By Steven Eramo
posted: 10 September 2008
As a director, whether you are shooting a feature film, TV show, or even a fast food commercial, it is up to you to help set the scene for your cast. For Martin Wood, resident director of the new upcoming SCI FI Channel series
Sanctuary
, that job is that much more challenging. Most of the show's environments, along with an array of exotic, magical, and sometimes dangerous creatures (a.k.a. "abnormals"), are brought to life with green screen. On this particular morning, the director is his typically enthusiastic and animated self as he stands behind the camera on the show's Vancouver set and works with actors
Amanda Tapping
and
Robin Dunne
to get them to imagine themselves in a very different place...
As season one of
Sanctuary
unfolds, our heroes are going to end up traveling around the world, from the snowcapped mountains of the Himalayans, to catacombs beneath Rome, and even the waters of the Bermuda Triangle. All these locales and many more are courtesy of green screen, the benefits of which have not been lost on Wood.
"When you're filming on a practical set, you can never think of doing, for example, a shot where a man is standing sixty stories up on a steal girder having a conversation with a woman, when one of them turns and flies away. And the whole thing is shot from above looking down at them with sixty stories of a city below you," muses the director [Martin Wood]. "You can't really do that on a practical set, but we can do it standing on the floor of our studio.