From
Starlog Magazine
:
(Please follow the link for the complete Starlog Magazine feature excerpt.)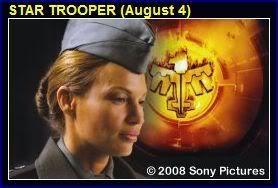 Jolene Blalock's new enterprise finds her fighting total Bug war. Would you like to know more?

STAR TROOPER by BILL WARREN
Although her ears are no longer pointed, as they were for her role as the Vulcan T'Pol on
STAR TREK: ENTERPRISE
,
Jolene Blalock
is back in space as one of the stars of STARSHIP TROOPERS 3: MARAUDER, and she's happy to be there.

"My 13-year-old Matthew loved

STARSHIP TROOPERS

, and I was a fan, too," she says. "I believe this one will join the ranks of cult classics that we all enjoy in the SF genre. I'm extremely proud to have it as a notch on my bedpost."
She hasn't read the original
Robert A. Heinlein novel
, so Blalock can only compare her movie to the other two Troopers films...

STARSHIP TROOPERS 3: MARAUDER
debuts August 5 from Sony Pictures Home Entertainment on DVD ($27.96) and Blu-ray ($38.98). It'll also be part of a boxed trilogy set ($39.95, DVD; $89.95, Blu-ray) which includes the two previous Troopers films.
Read
Jolene Blalock's
complete interview in STARLOG #368, ON SALE NOW at newsstands and bookstores near you.
DON'T MISS AN ISSUE; YOU CAN
SUBSCRIBE HERE